The first five-year-old Kristoffer von Hassel from the U.S. state San Diego discovered a fatal security flaw in the system of Xbox One. This probably happened because he had enough time or too much boredom. So, he simply cracked by the way the console of a market leader.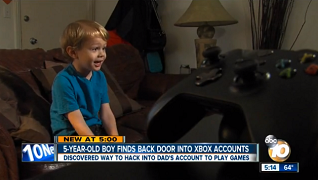 Kristoffer Von Hassel managed to log in to his father's Xbox Live account. When the password log-in screen appeared, Kristoffer simply hit the space button a few times and confirm his input with enter.
The boy won't be left out in the cloud for his discovery. His father reported the bug, a technician responded and corrected the error quickly. In gratitude for the information, the boy received four free games, a 50$ voucher and a one year membership for Xbox Live. Finally, you can find a short video on
of Kristoffer and his 'success'.
Certainly it is up to you, whether you want believe this story to be true, so what is your thought?
Original Source [altered]:
Xbox One: Konsole durch Fünfjährigen geknackt
-