A so-called 'feature timetable' was recently announced by Dean Hall and it was revealed, which contents and features will come up to the players of the 'DayZ' standalone version.
Already in few days or weeks, arrows, bows and crossbows should be integrated into the game. Afterwards, there follows a sort of hunting mechanics with which one has orientated by the respective features of 'Skyrim'. Fireplaces should also be added.
In the second quarter, one plans the integration of the so-called 'Ragdoll feature', but also neutral animals and persistent objects should find their way into the game.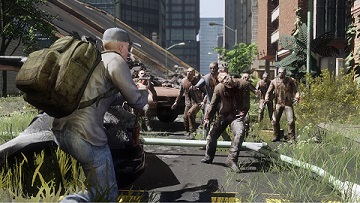 The main focus lies on the zombies in 'DayZ' then where one wants to improve clearly the behaviour in the third quarter. Besides, a new assault rife should come for 'advanced animals'.
Dean Hall would also like to introduce dogs and horses as companions. Likewise, usable vehicles are in planning. Nevertheless, bicycles, smaller cars and quads (ATVs) should start first.
In the fourth quarter, the developers have decided to include advanced vehicles, for example: Helicopter, boots, airplanes and trucks with components which will be extendable. There will also be a 'Barricade feature'.
About which coming features are you glad and which do you find pointless? What would you still integrate into the game what is not yet in planning? Say us your opinion and discuss about 'DayZ'!
Original Source [altered]:
DayZ: Kommende Features im aktuellen Jahr
-