The Vietnamese developer Dong Nguyen achieved a worldwide coup with his application "Flappy Bird", to the point where rumours say he earned up to 50.000 US dollar every single day just by advertisement. One month ago, due to the heavy influence the whole success had on his private life, he decided to remove the game from the Android and iOS stores, as people started to claim the game was downright addicting and not serving its actual purpose (
we reported on this
). In an interview with the magazine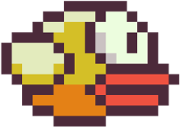 Rolling Stone
, the developer now reveals some interesting news whilst talking about this topic. Accordingly, he's thinking of a comeback of the flapping bird and an inclusion of warning notices which remind players that they should consider a break.
Nguyen himself stated that he's not yet working on a remake of his famous game, however he has three other projects which are currently being developed. The games, namely "Kitty Jetpack", a flying game, "Checkonaut", a chess game, and lastly a still unnamed, cowboy themed shooter, are what is awaiting us in the near future.
And now it's your turn! Would you like to see a comeback of "Flappy Bird"? Or do you think all of what the developer has done so far is just a well planned marketing strategy?