Nach der Ankündigung von "Mass Effect: Andromeda" war es um das Spiel mehr oder weniger ruhig. Großartige Neuigkeiten zum Spiel oder dessen Release-Termin gab es nicht. Der Titel wurde lediglich für das Jahr 2017 angekündigt, nicht aber ein genaues Datum bekannt gegeben. Auf eine Bekanntgabe seitens Bioware oder EA braucht man jetzt aber wohl nicht mehr zu warten, denn der genaue Release-Termin scheint nun geleakt worden zu sein.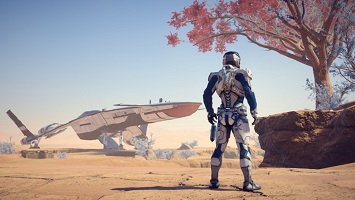 Wie wir bereits wussten, wird es neben dem eigentlichem Spiel auch ein "The Art of Mass Effect" von Dark Horse geben, welches hierzulande am 21. März 2017 erscheinen soll. Nun wurde jedoch auf Amazon eine höchst brisante Beschreibung des Artikels gefunden, die den möglichen Release des Action-RPG´s preisgegeben haben soll: "Dark Horse wird "The Art of Mass Effect: Andromeda" zeitgleich mit dem Spiel veröffentlichen!"
Somit wird das Spiel voraussichtlich am 21. März 2017 erscheinen, was nicht zuletzt ein Dienstag ist. Ein besonderer Wochentag, an dem die meisten Triple-A-Titel erscheinen. Neue Informationen zu "Mass Effect: Andromeda" wird es wahrscheinlich am 7. November, dem "N7 Day" geben.
Was haltet ihr von Mass Effect Andromeda? Freut ihr euch darauf? Schreibt es uns in die Kommentare!
Quellen: