As of today, Steam users have been given a new tab on their Steam Client, titled Software, in which utility, development and benchmarking tools can be found, being this the release of what they had announced last August.
Steam's software catalog isn't done yet, so currently users have a limited amount of software to get from there. This feature is slowly transforming
Steam
into the only destination needed for gamers and game developers.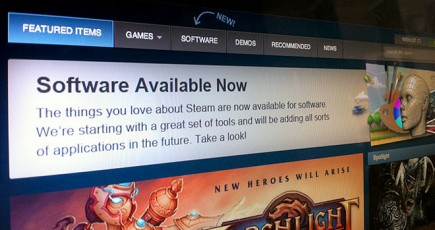 Currently users will find six different software applications available for purchase, which are:
GameMaker: Studio
ArtRage Studio Pro
CameraBag 2
3DMark Vantage
3D-Coat
3DMark 11
Earlier today, on a press release made by Valve, the information regarding this feature was made public:
"Many of the launch titles will take advantage of popular Steamworks features, such as easy installation, automatic updating, and the ability to save your work to your personal Steam Cloud space so your files may travel with you[...]GameMaker Studio, for example, features integration with Steam Workshop that allows GameMaker users to share their work via Steam."
As this feature is being launched today, all the software will have a 10% discount during the week, as well as the nice surprise of
GameMaker: Studio
being free for everyone, so there won't be any need to purchase a license for this software, which has integration with Steam Workshop.
Rumors state that Valve is planning on releasing software of its own, yet nothing has been confirmed yet, maybe we can foresee Valve becoming the only store needed for gamers overall around the net?