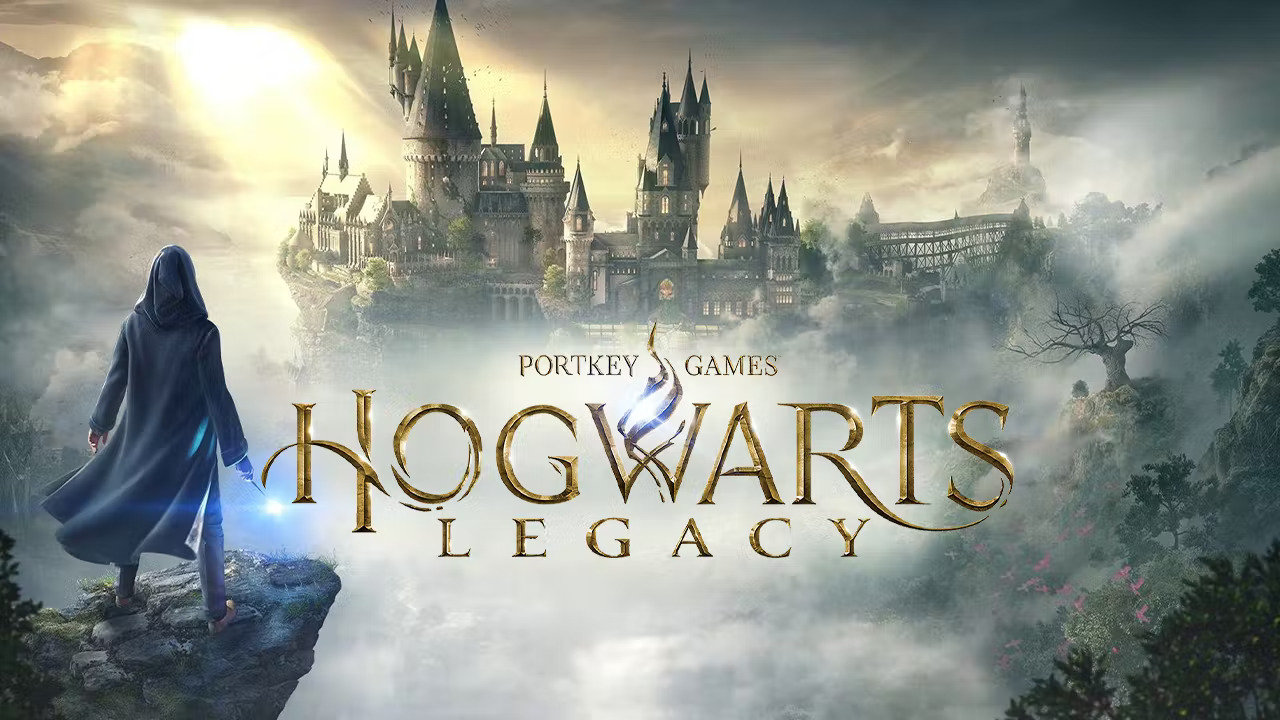 My enthusiasm for Hogwarts Legacy was high, but after the critics' reviews and after I tried the game myself, Iwas sure that I am in front of the best possible experience in the world of Harry Potter. The game has already been released and its giving so much hype! so today I bring you an extended article that includes everything you need to know about Hogwarts Legacy. This article is a comprehensive reference for you that includes all the information we know about the game, and what you can expect from this vast world in which you will spend dozens of hours.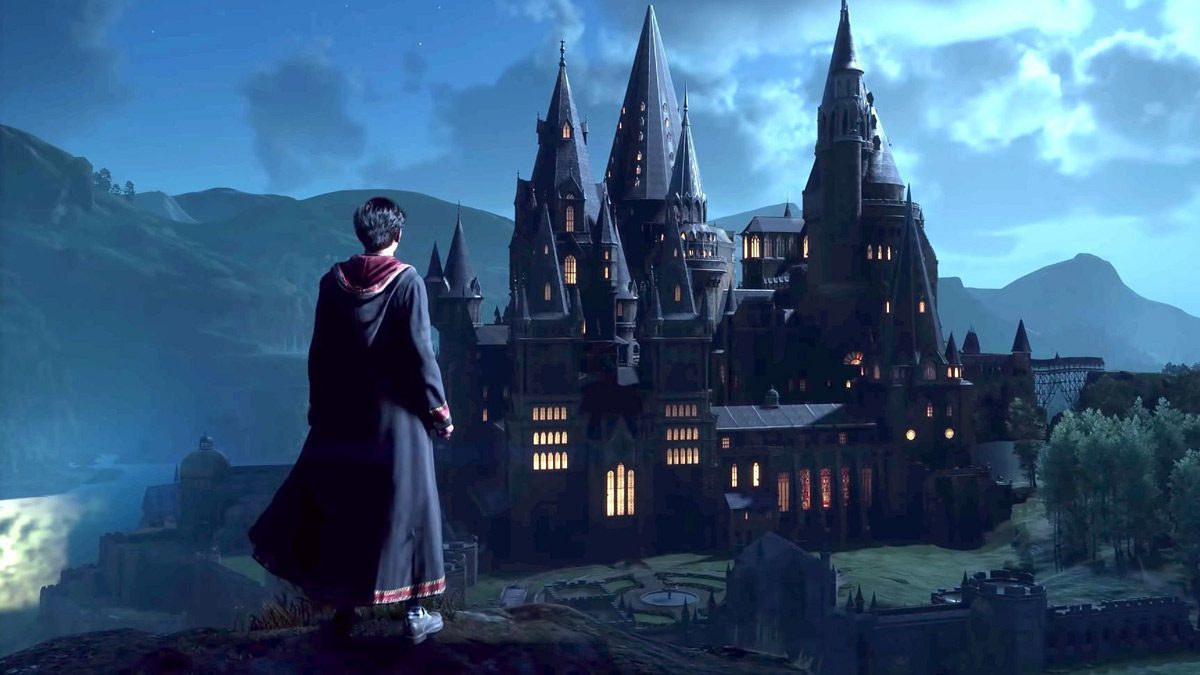 Story Of the game (Without any spoilers)
•The story of the game takes place about 100 years before the events of the films. The hero (a character created by you) transfers to Hogwarts School of Magic to enter the fifth year without going through the previous years. This creates a sense of amazement around the new boy, causing teachers and students to become interested in him.
•In light of your attempts to catch up with your colleagues by learning what they have learned in their previous years, there is an evil goblin (his name is Ranrok) who tries to lead his kind to carry out a "revolution" against humans and their control, and soon circumstances put you in front of him and you find that you have to confront him and know his goals and tools that he uses to cause chaos .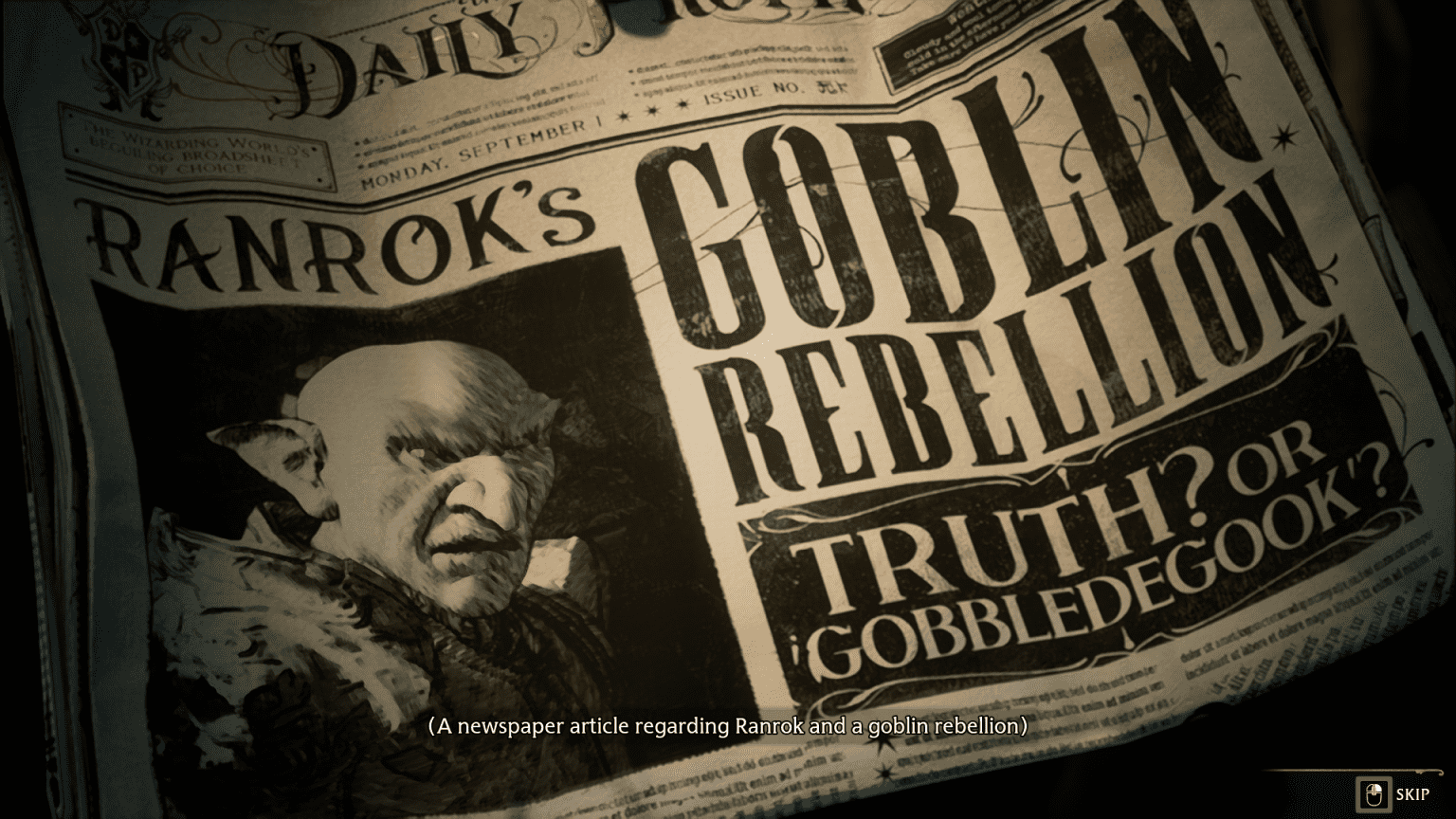 •In general, the story is strong and has many threads whose events meet at the end of the game to clarify everything. There are questions the game poses that anyone who has seen the movies or read the books will know the answer to, but there are also many original secrets that were never revealed in the books or movies. The story of the game rewards you if you are a fan of the old Harry Potter books and movies in many ways.
•The true protagonist of the story is the great virtual world that Portkey Games has so ingeniously designed. The game hero you play as is just a tool for narrating events. The situation is similar to other RPGs, and in that the character has provided a lot of positive aspects. The protagonist is not silent like most games of this type, but he provided some great moments in his performances and dialogues. More on that in the Audio Experience section.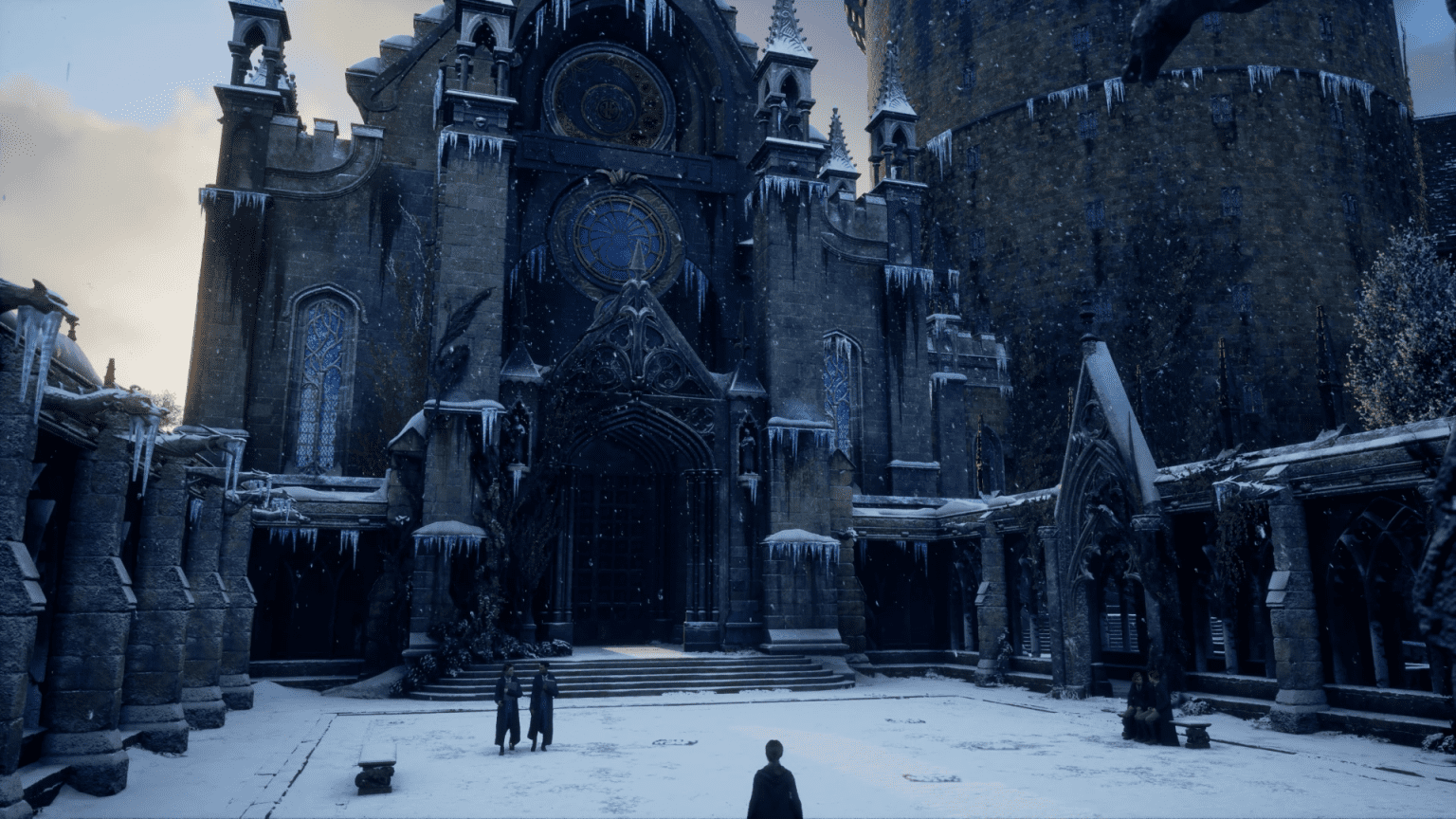 Hogwarts Legacy game content

•In my experience, the story spanned 20 hours of play and I managed to finish it without doing too many side missions. All of my side content I did because curiosity pulled me towards it and not because I had to or the game forced me to.
The content of the game is divided into story missions, side missions, professors' missions, and "relationship" missions that help you get to know your classmates.
Aside from missions, there is also a huge possibility encouraged by the game to explore and collect items and resources from the environment.
There are open world activities such as robbing enemy camps, hunting down legendary monsters, exploring secret places, and encountering environmental monsters such as wolves, goblins, etc.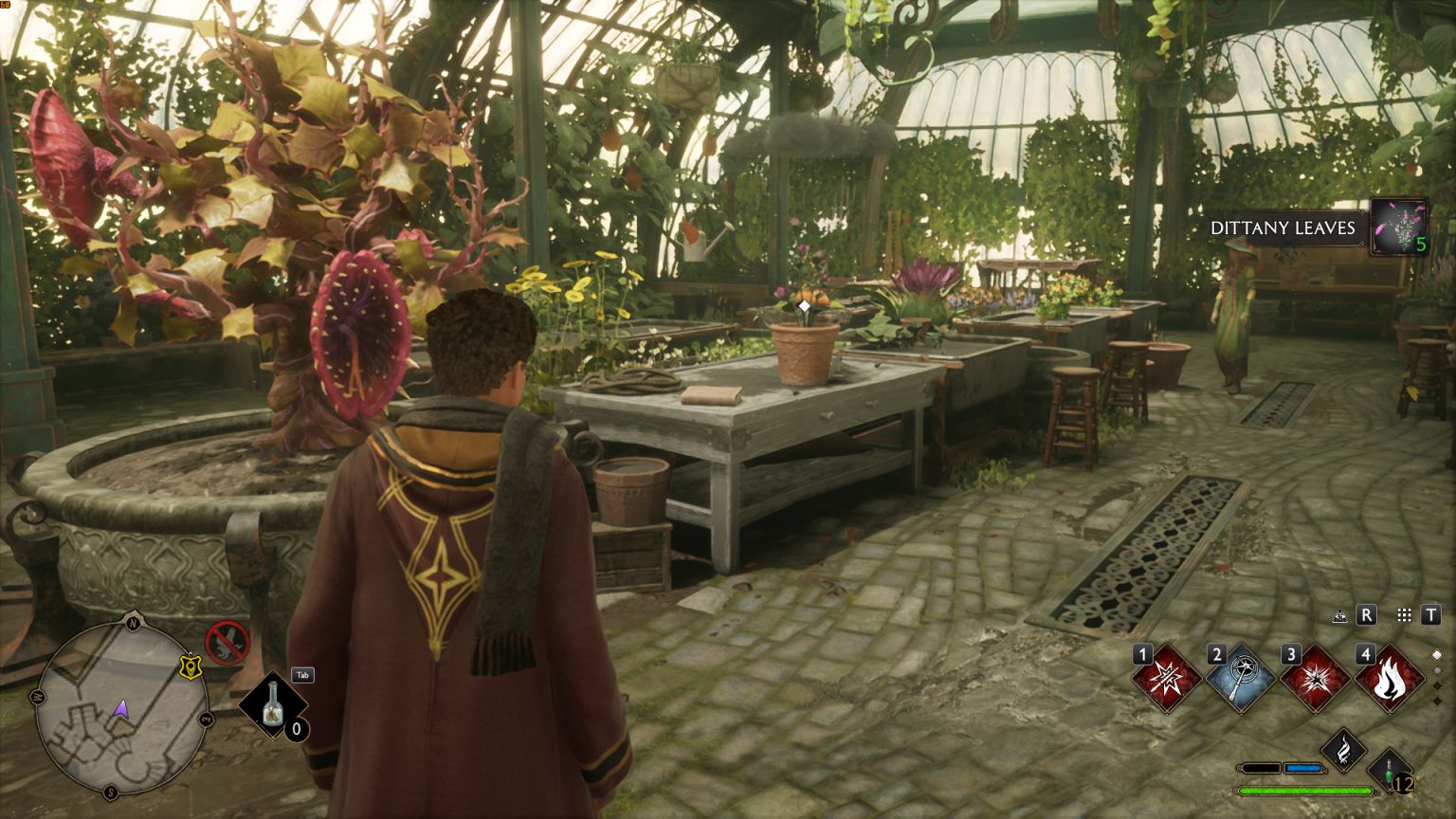 •Room Of Requirements plays a big role in the game. It is a place where all school activities are practiced and practiced. You can grow different plants and experiment with recipes, upgrade clothes to be inlaid with magical features, breed exotic animals that populate the world and save them from poachers. Everything you do in the Room of Requirement benefits you to increase your resources.
•You can attend your classes as part of the story missions, and then the masters give you assignments or tasks that you have to do to get a reward in the form of learning a new spell.
•The game has a large list of spells (more than 20) between legal and prohibited spells (3) that you can also learn and use.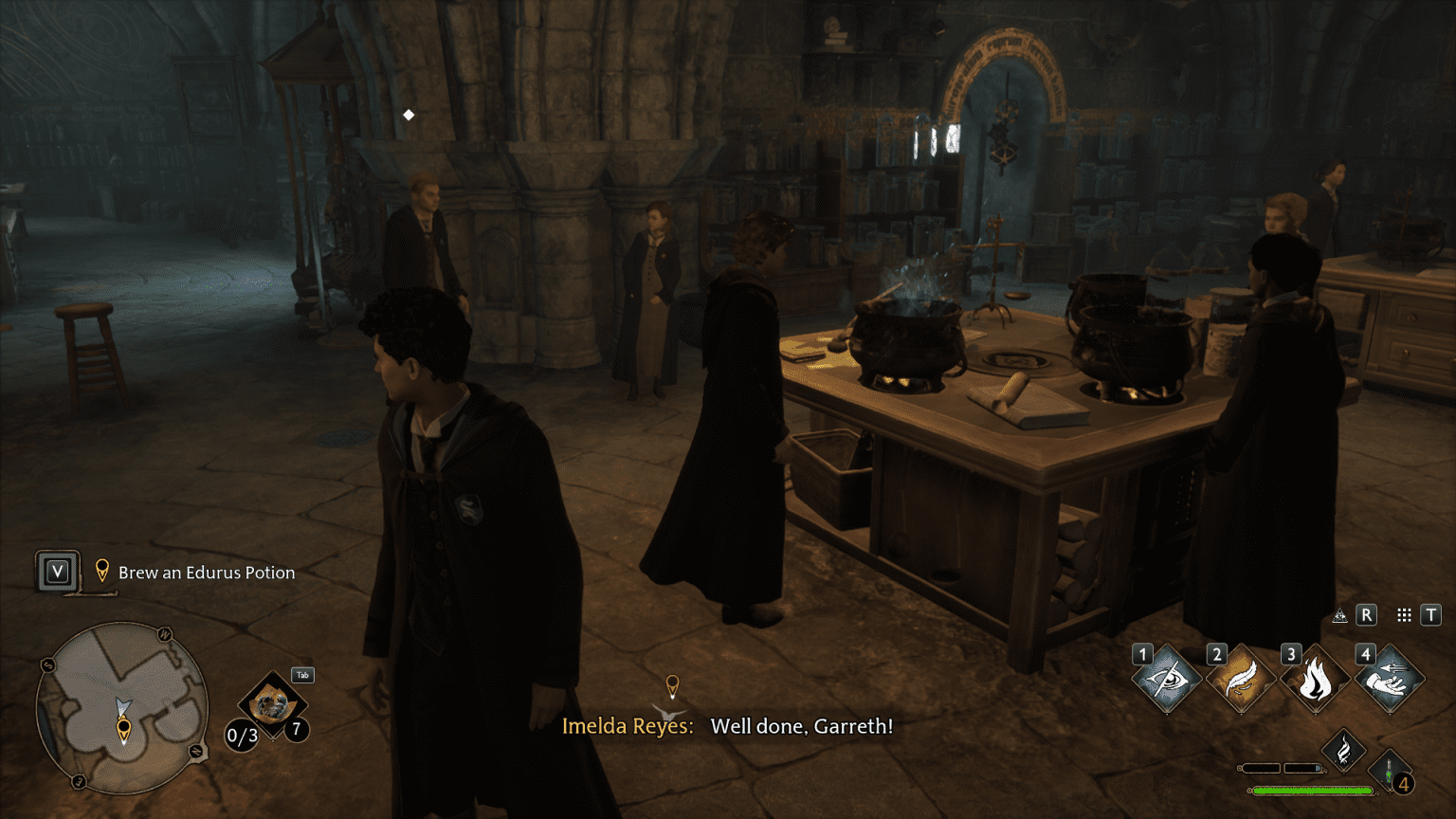 •The game has a tight and complex combat system that gets fun the more you master it. It reminded me a bit of God Of War Ragnarök in terms of its variety and fun. There are classes of spells and each class has a color to symbolize the class.
•Each enemy has a class of strikes that only a similar (in color) type of spell can block. There is a dodge and block system and a tight layout for switching between spells galore.
When your spell bar is full, you can use Ancient Magic, a powerful spell that knocks out most normal enemies with a single hit.
There are environmental puzzles in some stages based on moving objects and platform jumping.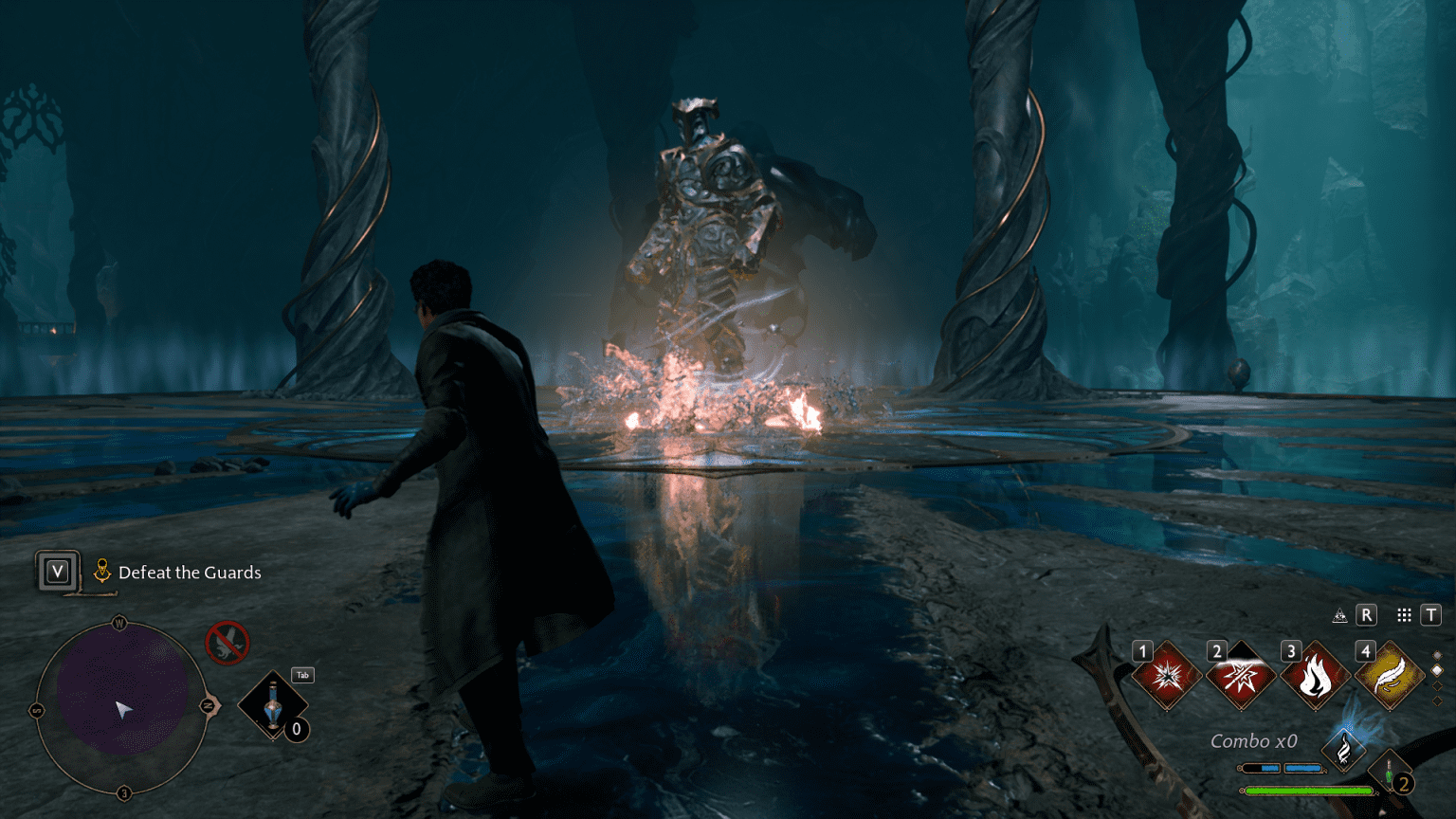 •Exploration, collecting resources, completing missions, and combat earns you XP points, which contribute to leveling up. Which enables you to complete more missions because the enemies and missions also have specific levels. Also, with each level of progress, you get a point with which you can buy "talents".
•Talents is Hogwarts version of the skill tree which has 6 branches: Spells, Dark Arts, Basic, Infiltration and Room of Requirement.
The menu of the game is a book called Field Guide, which is a magic book to help new students. With it, you can monitor your progress, gear, missions, and just about everything else.
•Everywhere in Hogwarts you will find hidden scrolls that you have to reveal and collect with the Revelio spell. These scrolls give you additional information about each location they appear, and help you complete a related challenge each time you collect a number of them; To increase your level and reward you with new clothes.
PROS & CONS
Cons:
•My experience had some minor technical issues and the most frequent one was the Texture Pop Up problem. All the problems were not affecting the overall experience but it does detract from the splendor of the environments. Fortunately, these problems are supposed to be fixed by the first day update.
•Absent from the story is the spirit of rivalry between the four Hogwarts Houses (teams) that is one of the most important elements of movies and books. I didn't feel like I belonged to the team the game chose me for.
•The absence of side characters accompanying at all times, although one of the pillars of the Hogwarts experience is the dynamic relationship between the students of the school and especially the heroes. The side game characters are great but I felt like I was going through the journey alone a lot of the time.
•The voice performance of the hero and the facial features of all the characters are mediocre. It is common in RPG games, but it is clearly present here.
•Choices rarely affect the course of events. I wished the dialogues had an effect on what the characters do, or even if the game had given me a choice between two things central to the events of the story. Unfortunately this did not happen.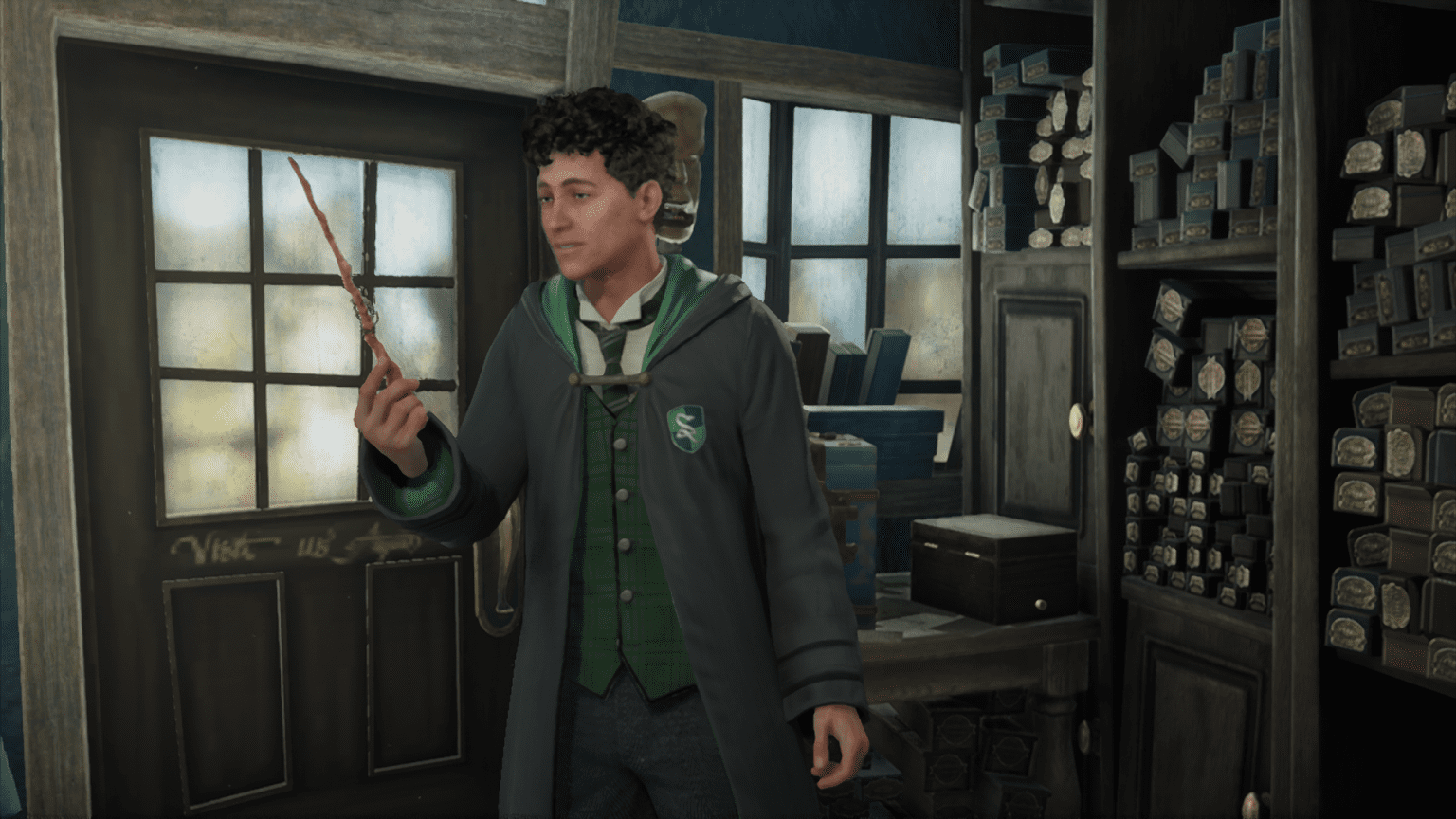 Pros:
•Hogwarts Legacy is Portkey Games' first game and overall, it provided an excellent experience without any major flaws, and could be improved if it was made into a series. It reminds me of the release phase of Batman Arkham Asylum where the foundation was great, everyone was satisfied with the experience and needed more. We are definitely in for something amazing here!
•Smooth technical performance on weak computers. I played the game on a machine with a GTX 1650TI graphics card, 16GB RAM, 10th gen Intel Core i7 processor and got 40fps on high settings and 60fps on medium settings.
•The menu design and user interface are great.Creating menus this smooth in a game with this much detail, backstories, and content, especially spell menus that need to be switched quickly, is an achievement not to be overlooked.
•Every spot on the game map is vibrant and detailed, especially the Hogwarts environment map that embodies the school in the best possible way. Hogwarts is the true hero of the game with all its details, secrets and moments that you won't soon forget.
•The game's music is composed by Alexander Horowitz, and it is the first time that he has composed a complete game and supervised the acoustics team in it. The game delivered the experience fans of the books and movies deserved in every sense of the word. The game delivered epic moments that would not have stuck in my memory had it not been for the amazing visual and audio work that made it special.
•The game's environmental puzzles are great, reminded me of God Of War Ragnarök (note this is the second time I mention the game) in making you use all your tools to solve the puzzle.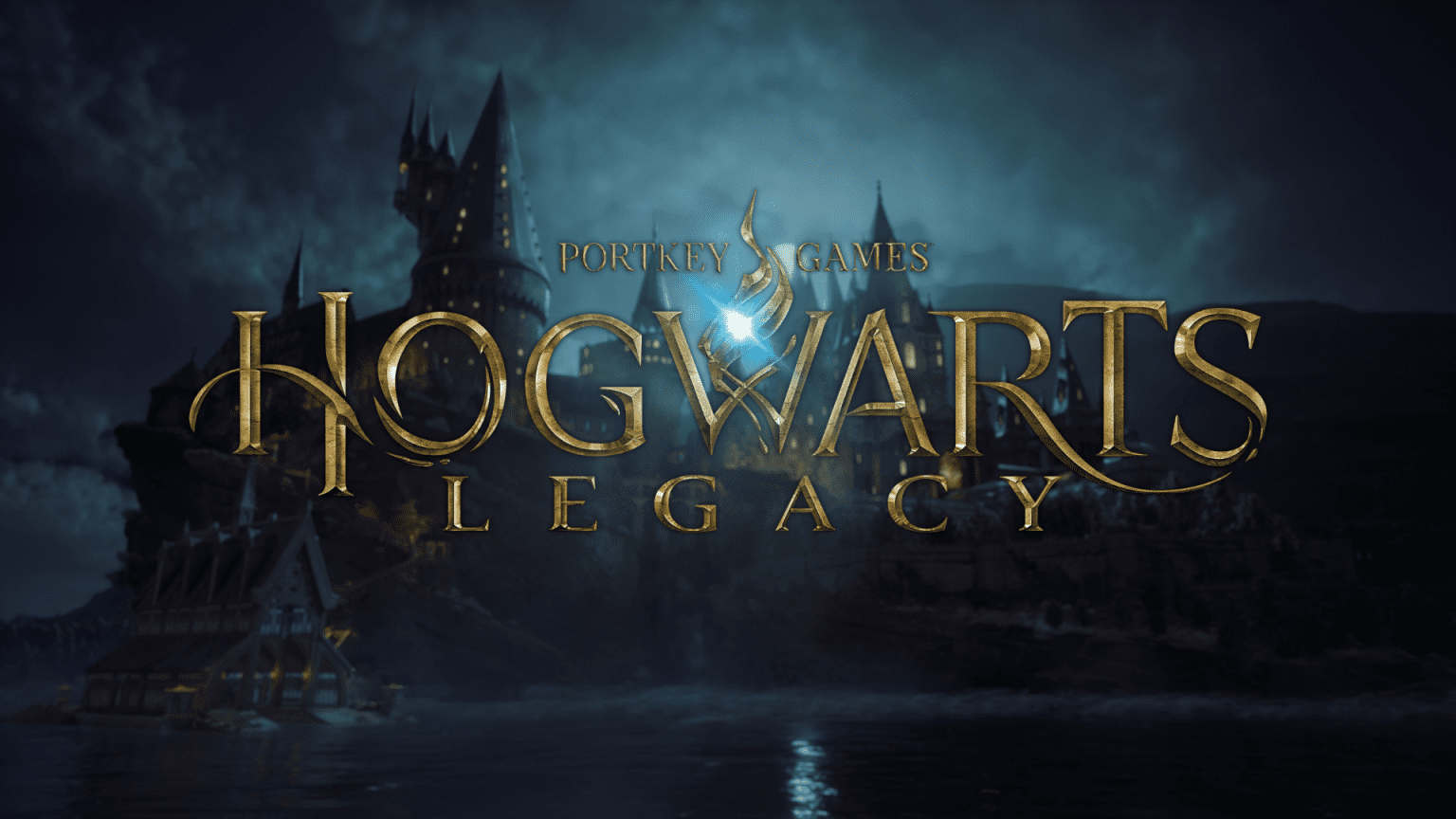 Conclusion
I can't believe it took this long for someone to think that an RPG in the Harry Potter movie universe might be a good idea. Hogwarts Legacy is everything you wished and dreamed of and more. A powerful action game with a unique story and RPG elements, the ability to do everything in the Harry Potter books and movies and see these iconic places up close. All the beautiful details are incredibly present.
Do I Recommend the game?:
The answer is , Hell Yeah! Hogwarts Legacy gave me that feeling I haven't had since Red Dead Redemption 2 that I couldn't stop playing, with hours and hours spent telling myself I had to go to sleep, and that "this is the last thing I'm going to do." 25 hours that I didn't feel like because I was addicted to everything, even chasing butterflies and finding hidden treasures.
Hope my review was worth it
Much love!