- The elitepvpers - Easter Event -
rustle
,
wosh
,
rustle
- What was that? Was it a rabbit..? What did he want here? This must have been the Easter Bunny who has just rushed through our forum. Yea, it is that time of the year again where all the crazy rabbits are hopping around and scuttle about the world. In a hurry to be able to hide all the presents in time this year, the Easter Bunny has only left a mysterious note to us...
Quote:

Originally Posted by Easter bunny

Ranks, I want to see ranks!!
Gold.. Everything should be in gold.
Easter Eggs, Easter Bunnys and many quests!
The whole situation happened really fast and was pretty confusing. And most of all not obvious.. After several hours of consideration what the note could mean and rather what the Easter Bunny was trying to tell us, we came up with the idea!
- Welcome to our annual elitepvpers - Easter Event -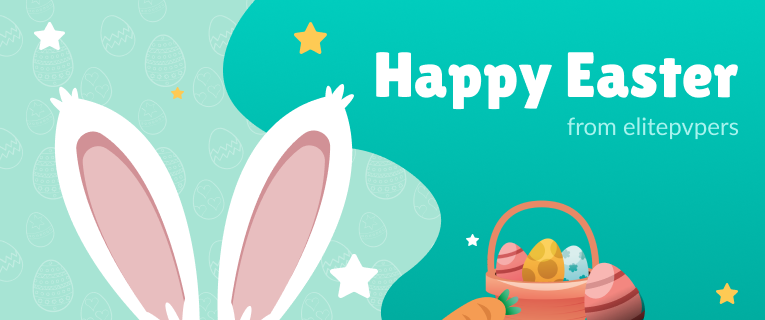 - The Event -
In the period from April, 10th 2020 8pm until April, 19th 2020 8pm you have got the opportunity to earn many cool stuff! You can not only receive a lot of elitegold, you are also able to get our special ranks like premium and elite for several months or even years. So if you would like to call yourself a winner you have to make a big effort to increase your opportunities. The event will be separate in several mini-events. There are 2 puzzles, a task within our forum and one task is supposed to take place in your reallife. What exactly your task is going to be will be explained in the next paragraph!
Crossword:
Here
you will find the file "crossword". Your task will be to answer these questions and put the correct words into the crossword. Some letters will find their place in one of many red panels. You'll need those marked panels to find the solution word. Unfortunately the Easter Bunny did not number the marked planes. Therefore you need to put the letters into the right order to find the solution word. Special characters like underscores and hyphens will take up separate panels within the crossword. You will find further information and where to put your submission down below.
Word search game:
Right next to the crossword you will find the "word search game" over
here
. The Easter Bunny hide 19 words concerning elitepvpers and Eastern. You have to find all those words and submit them via Elitepvpers-Bot or Discord-Bot as it is described down below.
Handicraft:
We want to see your creativity! Who creates the most beautiful Easter decoration? Who draws one of the nicest pictures concerning Eastern? And who handcraft the biggest Easter Egg? Come up with some nice ideas for Eastern. Please post your submission with a verification of your name
here
.
Easter egg hunt:
The Easter Bunny hide several gifts in our forum! find all of them to receive up to 100 elitegold as a present.
General conditions:
As already mentions above you are able to participate in our event from April, 10th 2020 8pm until April, 19th 2020 8pm.
To participate in our first and second event [1) crossword, 2) word search game] you can either use our discord
or
our board. Crossword has got mode 1, word search game has got mode 2.
Instructions
- Easter gifts -
1st Place - Elite-Rank for 3 months + 1000 Elite*gold
2nd Place - Premium-Rank for 2 years + 750 Elite*gold
3rd Place - Premium-Rank for 1 year + 500 Elite*gold

- In conclusion -
Further information and instructions regarding the participation can be found
here
. The criteria of evaluation will be quality, effort and creativity as it is always. Please not that you can only hand in one solution per task.
To win any of our prizes you are supposed to participate successfully in at least 2 out of 3 events! Since there will be several users with the same amount of successfully submissions, the prize will be given to the one who participate in 3 out of 3. If none of these users took part in 3 of our events, the decision will be made due to who submitted first.
The prize draw will be held a few days after the event. Our winners will be informed in the thread as well as via private message. We wish you all a happy Easter. stay healthy, have fun and enjoy your free time.
- Best of luck -