Welcome to Rageon Online, where we've develop the most iconic and nostalgic, Silkroad Degree 110. Our dedication to authenticity and attention to detail is unmatched, ensuring that you'll experience the best gameplay possible. Engage yourself in a superior gaming experience with our new and exciting features, expertly balanced between Europe - Chinese gameplay. Whether you're grinding or competing with fellow players, our server provides the ultimate level of challenge and enjoyment.

In Rageon Online, we've introduced the concept of Open Market, which adds the opportunity of making profit from your gameplay experience. By grinding and selling items, you can earn real money and turn your passion into profit. Additionally, we've designed our server with a "Long-Term" approach, featuring hard rates that create a balanced and enjoyable grinding experience for all players.

| Username - epvp | Join Date - epvp | Nickname | Position - PServer |
| --- | --- | --- | --- |
| Sage* | 01/06/2023 | Sage | Server Owner |
| | | Tobi | Administrator |


Don't miss out on the opportunity to participate in the crucial beta phase of Rageon Online. This phase will not only allow you to become familiar with the system, but also provide plenty of chances to earn rewards through exciting events. Join us now and be a part of the action!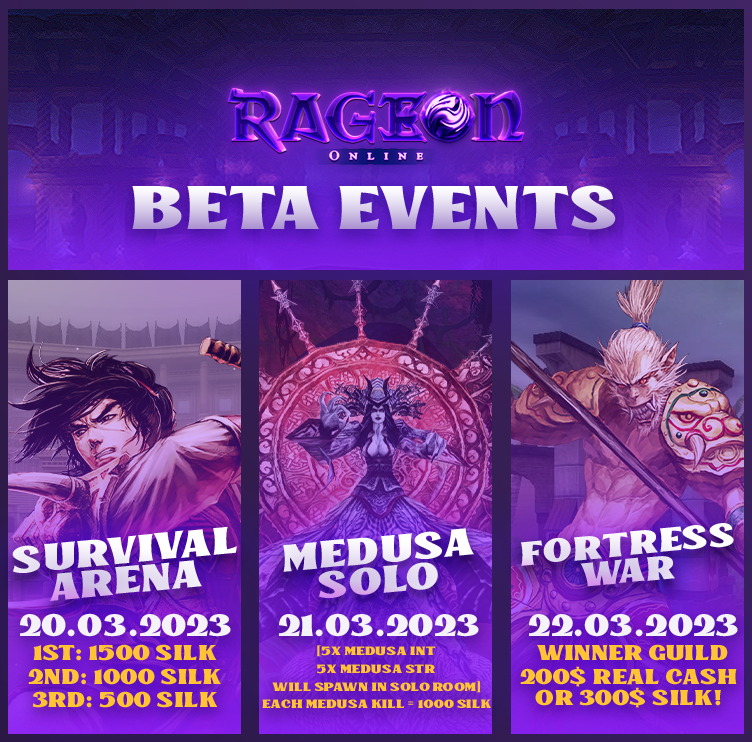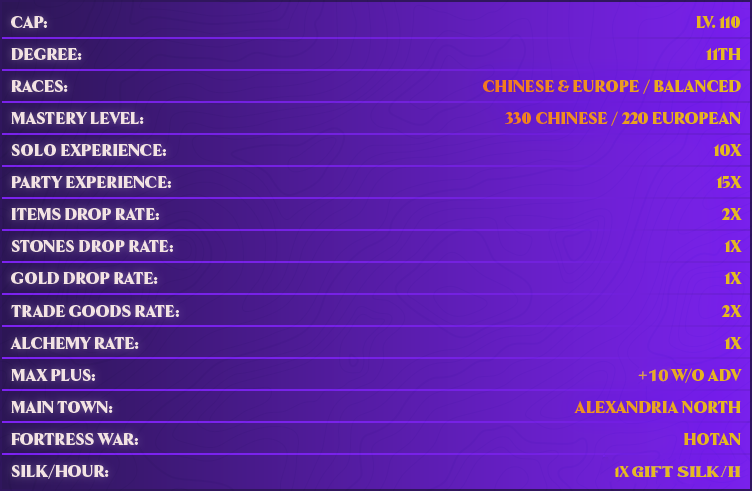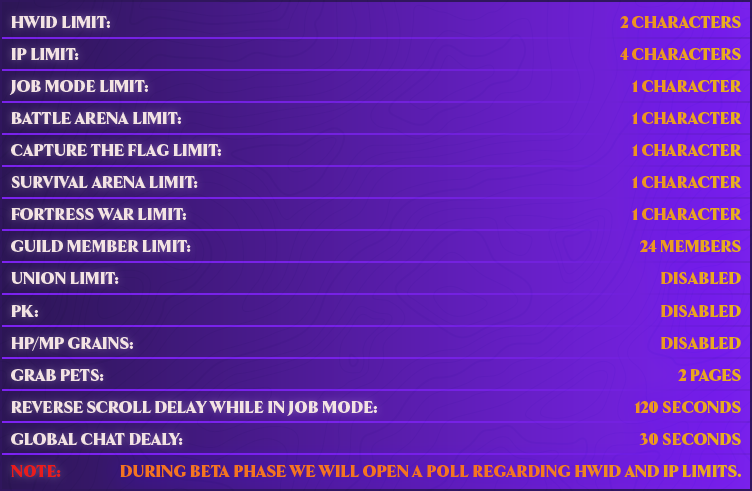 ✦ Top Level Rewards ✦
At Rageon Online, we understand the entusiasm and determination that comes with the race to reach the maximum level. To show our appreciation for the top 100 players that reach maximum level on our server, we have prepared a special gift that will make all the hard work and effort worthwhile. Don't miss your chance to claim this exclusive reward!

✦ Start Items ✦
In Rageon Online we give you a good start items that will help you to improve your character in the game.

✦ Auto Equipment ✦
We have an extra boost for all players with Auto Equip items that will give you Sun Items +5, full blue 41% stats from D1 ~ D9. At D10 you will receive normal items +3 full blue 41% stats.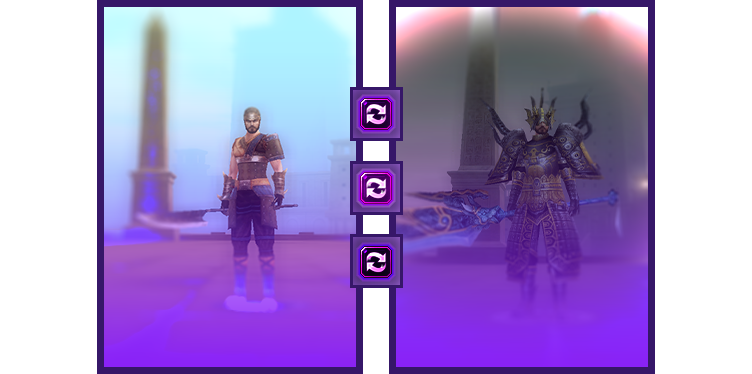 ✦ Main Town ✦
Alexandria will be the main town of Rageon Online to give you the best feeling of old school game and original experience of Cap 110. You will find all Special NPC's and Teleports there.

✦ Grinding Areas ✦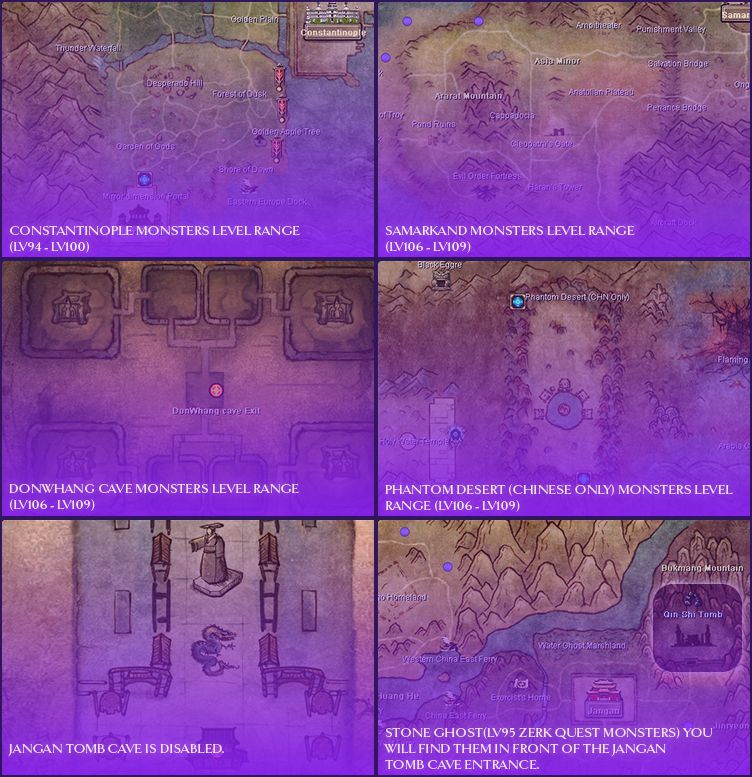 In Rageon Online Battle Arena is the center of all activities and fun.
We have 2 kind of Battle Arena

1 - Battle Arena CTF Match
Capture the Flag is similar to Point Battle type of event, but it also allows you to grab the flag and place it on your team's flagpole for a large point boost. These points only count at the end of the battle arena time, so it's crucial to make sure the flag is on the flagpole by then, no matter what happened before.

2 - Battle Arena Score Match
Opponents fight against each other and earn points by killing enemy players or mobs. The team with the highest point total at the end of the battle is declared the winner.
Winner team Rewards: 10 Arena Coins + 1x Immortal(Untradeable) and Automatic Level up.
Loser team Rewards: 3 Arena Coins
Tied Round: 5 Arena Coins.


✦ Play 2 Win ✦
In Rageon Online, we've implemented the old-school gaming system that rewards those who put in the effort. Our currency system is designed to be challenging but fair, with various ways to earn silk and valuable items through gameplay. Everything is droppable, so the more you play, the more you can gain.

We replaced the Silk per hour system to give you 1 gift silk and you still can get regular silk upon killing uniques, completing quests, participating in-game events or participating outside the game events such as discord and facebook giveaways.

In most of our events, we provide gift silk as a reward. Gift silk has the same value as regular silk, but it cannot be used to purchase silk scrolls or traded. However, it can be used to buy anything from the item mall.

✦ Max Stack ✦
We have decided to increase the max stack of the most used items.
| Items | Stacks |
| --- | --- |
| HP/MP/Vigor | 20.000 |
| Pills | 5.000 |
| Berserker Scroll | 100 |
| Stones | 25.000 |
| Elixir | 25.000 |
| Coins | 25.000 |


We know that silkroad cap 110 is one of the best gameplay style and skills system ever, so we provide you with the best skill balance system. After a long time of testing, we finally manage to create a perfect balance between Chinese and Europe race. This balance guarantees that both types of players have equal opportunities to succeed and compete at the highest level.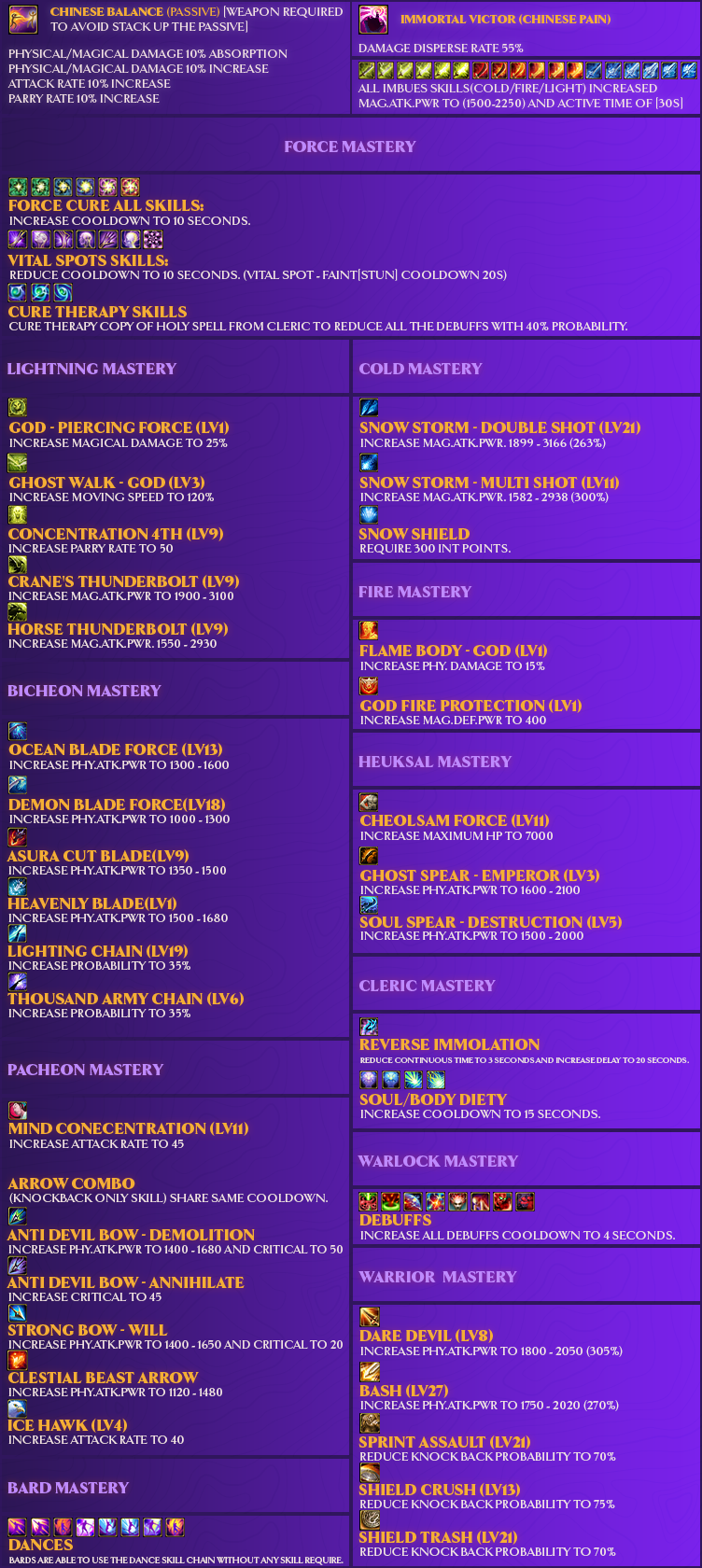 We want to make it more easier and easier, we've added some shortcuts
which will help you to check your ranking, unique history, events, schedules, item chest and manage your title names with custom colors.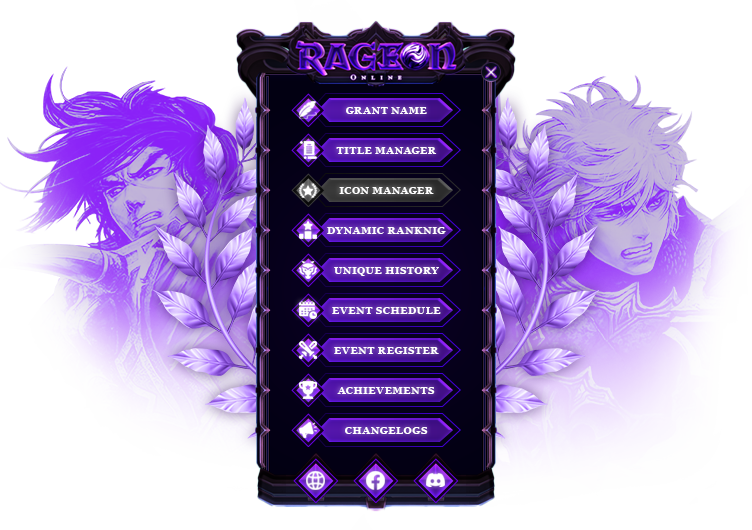 ✦ Copy&Paste Function ✦
This will make your life easier and will save you the struggle of having to paste anything from outside the client into your bot's chat!
✦ Inventory auto-sort button ✦
We are all aware of the lack of energy and how sluggish everyone is these days. Therefore, we've decided to implement Inventory Auto Sort! The most cutting-edge and simple feature, yet the most useful. We were able to add a button to inventory that ,when clicked, will automatically sort everything in your inventory.
✦ Dps Meter ✦
Get insights as to who killed the unique ,plus you will be able to see how many ignores and crits of the Top 8 shows at the DPS.

✦ Automatic Stats Button ✦
New function to help everyone automatically adding stats to save time and effort.
✦ Unique History ✦
Display all alive and dead uniques in game and show last place of the dead unique with damage counter.

✦ Global Items Linking ✦
You can link your item in Global Chatting by pressing on [Ctrl + Click on item].

✦ Grant Name ✦
Change your guild grant name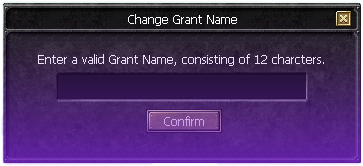 ✦ Title Manager ✦
With this feature, you can save and manage all of your title names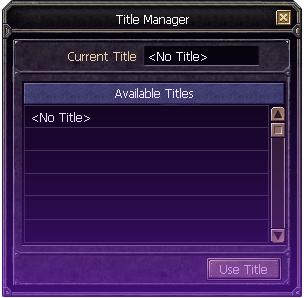 ✦ Dynamic Ranked ✦
With this feature, You will see all the ranks available in the server and which position you hold so far. You will be able to see all of that and stay up to date withthe ranking by a refreshed way. All ranks will be reseted weekly.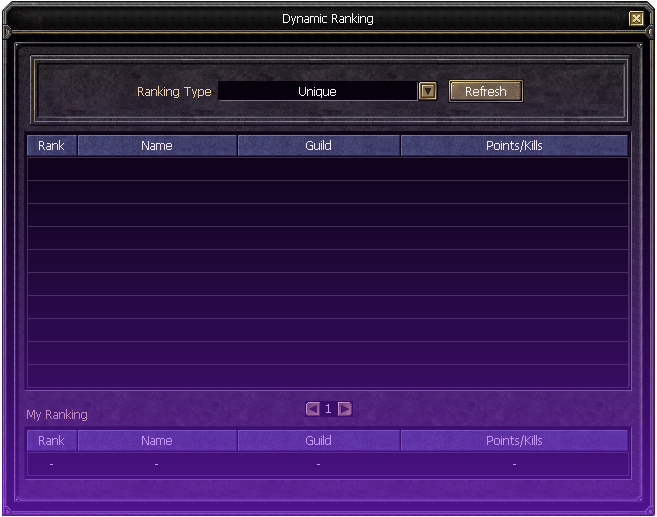 ✦ Events Schedule ✦
With this feature, you will be able to see all the events scheduled to prepare yourself for it. Also it will show a countdown for those events taking place at the same day.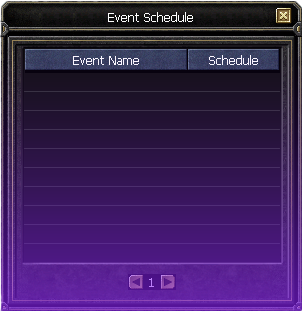 ✦ Event Register ✦
With this feature, When it comes to registering in our events. It's not gonna be easier than that, some events will be usable only by registering via our event register GUI.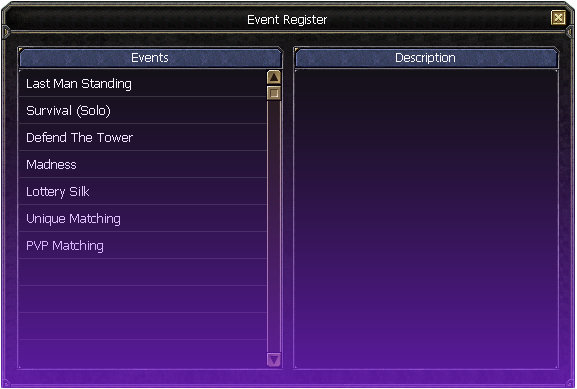 ✦ Achievements ✦
Check your progress and manage your achievements in game.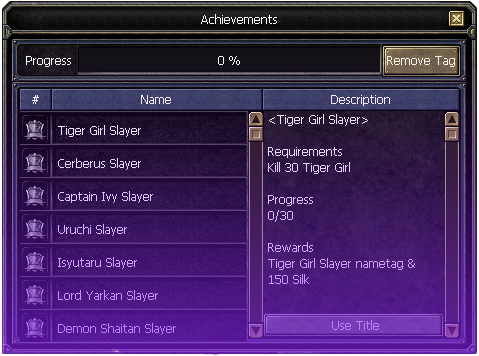 ✦ Coins System ✦
We have only 4 kind of Coins in Rageon Online that you can use to buy everything in game with.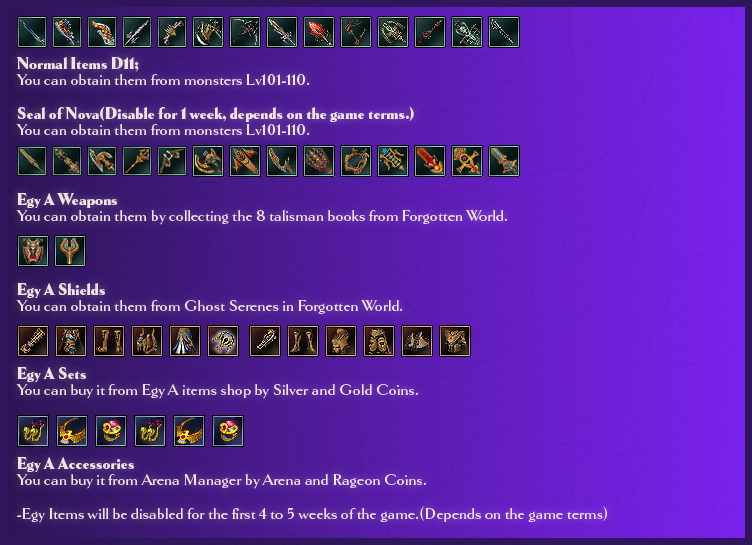 ✦ Item Mall (F10) ✦
Improve your character's abilities and customize their appearance with a wide range of new scrolls, items, avatars, and pets available in our Item Mall.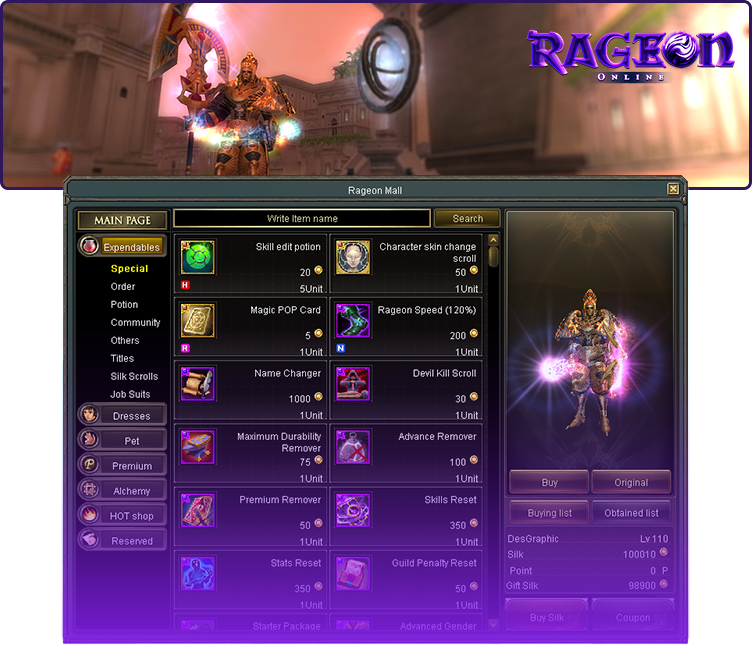 ✦ Rageon Mall NPC ✦
This NPC provide you with all the useful items, with diffrenet currencies so you can use it to improve your power in-game along with dungeons portals, sockets and more.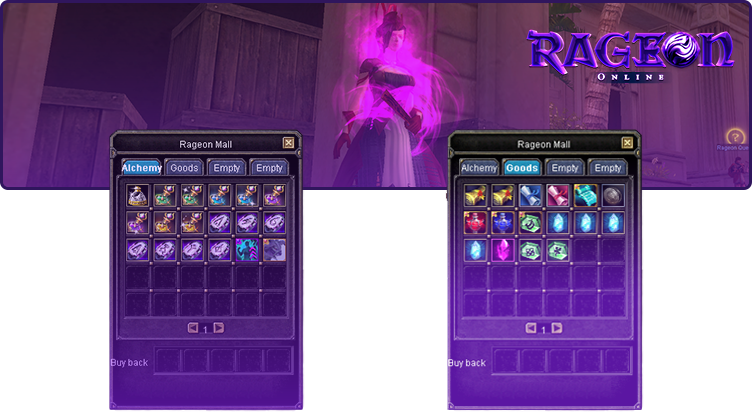 Everyone love to complete quests and get the feeling of progressing in the game, so we provide you Rageon Quests that have amazing challenges and worthy rewards.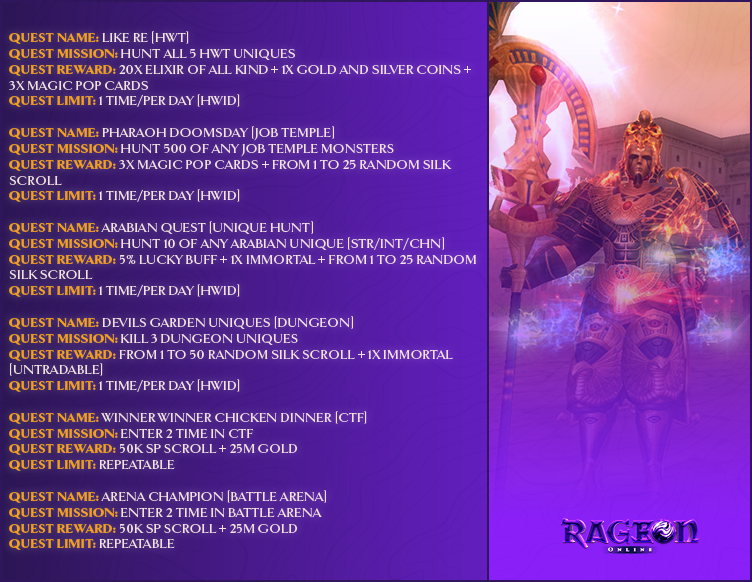 ✦ Forgotten World - Shipwreck ✦
We know how fun the forgotten world is, so we decided to enable this thrilling great system, you will be able to obtain Egy A weapons/shields by collecting the 8 talismans. The rates are the same as original silkroad, we don't want players to get end gear weapon in the first couple weeks ofcourse, good luck collecting the talismans.

Dimension Hole [Shipwreck - ★★★★]

You can buy it from Rageon Mall for gold.

✦ Devil's Garden ✦
In this amazing dungeon, you can enter it solo or with a party to make it more easier. Inside you will find few monsters you have to hunt them down to spawn the 3 unique monsters (Dungeon Guardian Hammerman - Dungeon Guardian Minotaur - Dungeon Boss Dual Arms).

Dimension Hole [Devil's Garden]

You can buy it from Rageon Mall for gold.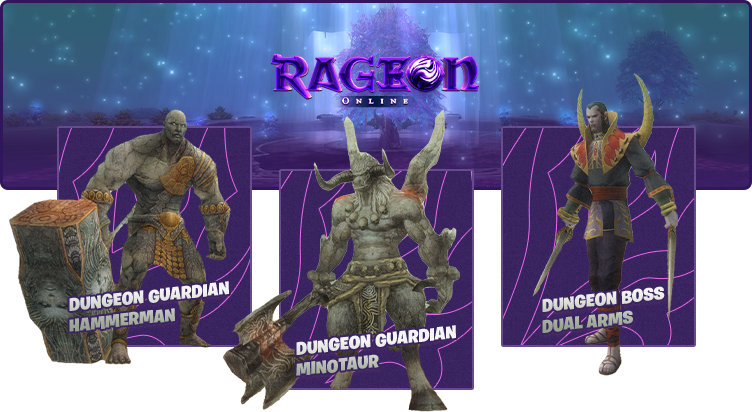 Our Job Mode is the perfect way to earn valuable profits with our original and classic trading system. It's one of the best modes available in Silkroad gameplay. Start travel from town to town, trading goods and see for yourself how it can help you progress faster in the game!


Our new and improved job suit system provides you with extra stats to help you be more powerful while fighting enemies. You can buy the special suits from F10 item mall and upgrade them from Lv1 to Lv5 with our upgrade scroll from Rageon Mall for Rageon and Arena Coins.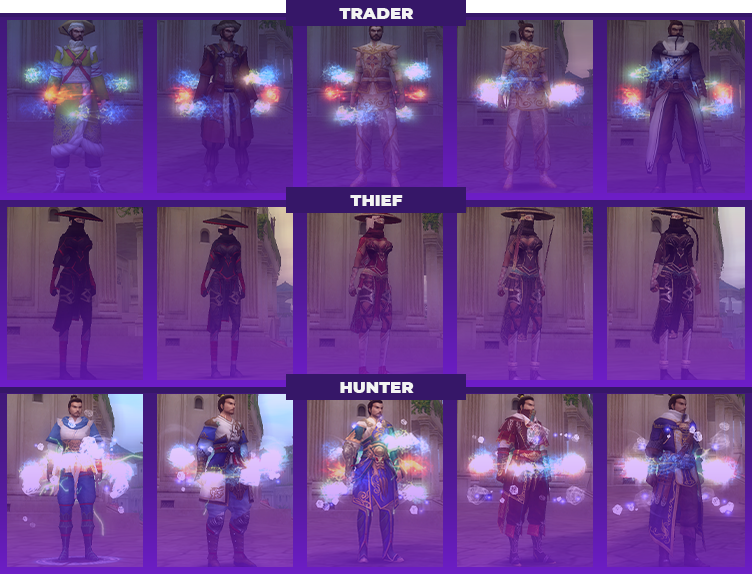 In this event you will enter a special room with 2 side [Thieves and Hunters/Traders]. You will fight each other inside this area to gain points per kill and there are 2x Stryia Boxes that will drop on ground every 2 minutes. Whoever collect the boxes gain more points for his Job team. The team with the highest points at the end will be declared the winners and receive a reward.


Everyone loves a good job fight around uniques that add more challenge and let you control the event. We provide you with the Zealot Hideout event which have 3 Uniques inside and counter for kills between Thieves and Hunters/Traders. However, these 3 Uniques are powerful and have very worthy drop. Also the top 3 killers on counter will be rewarded.


Hunting uniques is one of the most enjoyable, challenging, and competitive aspects of Silkroad experience. We have plenty of uniques in Rageon online to give you the best feeling by hunting them down everywhere.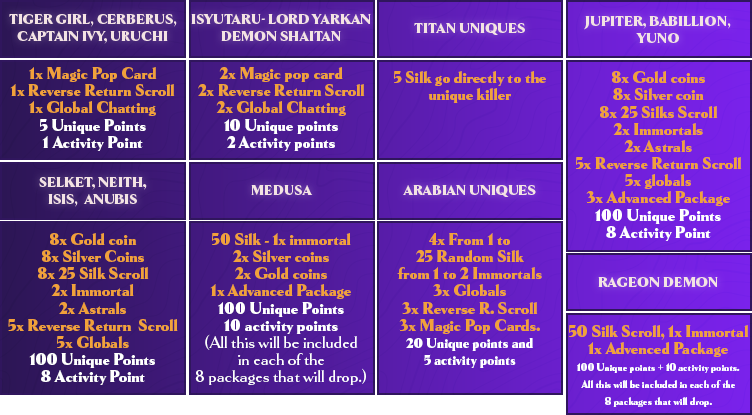 In Rageon Online we have plenty of fun, challenging and worthy achievements to complete that will give you unique tagnames and rewards.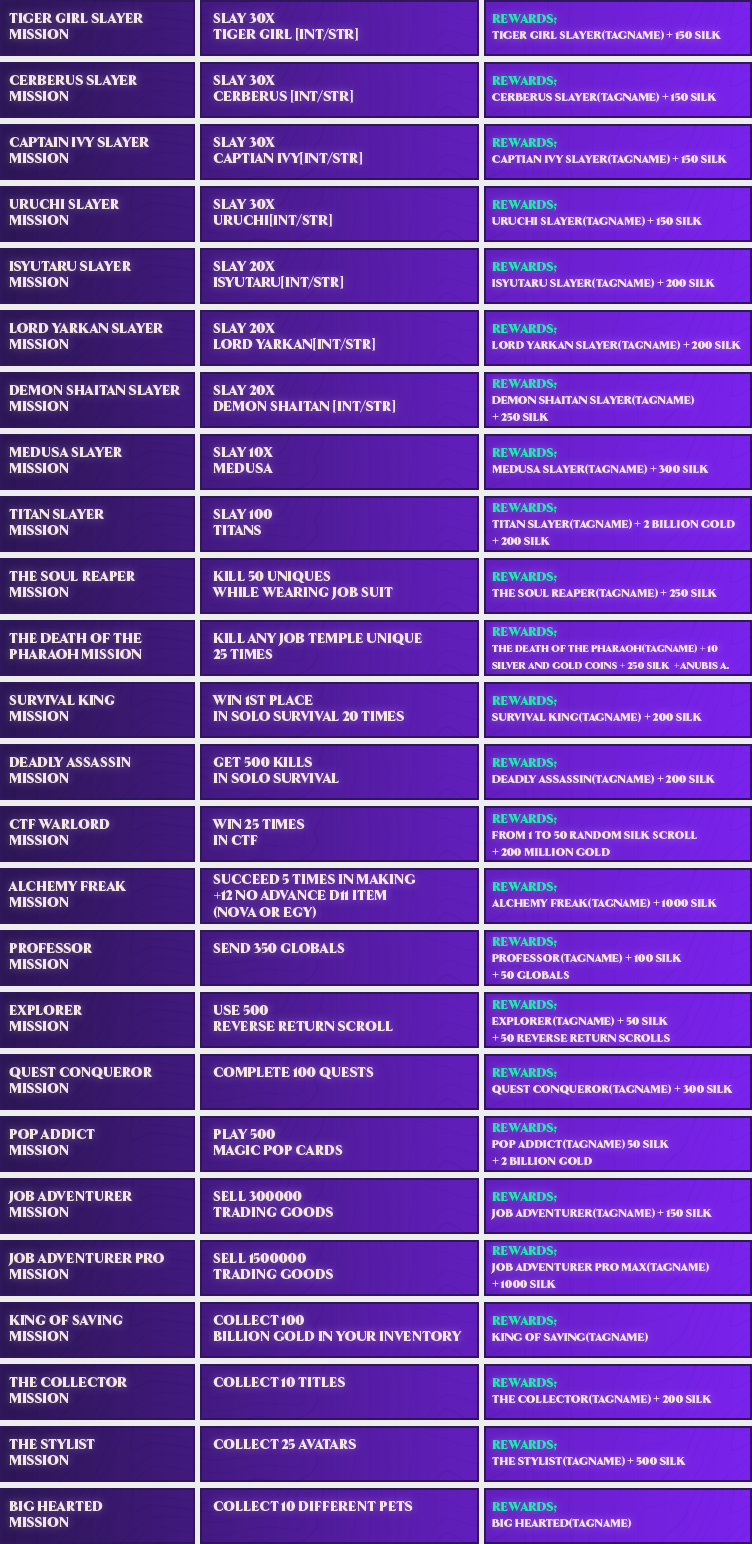 ✦ Honor System ✦
We have the original old-School Academy system.

✦ Activity Points System ✦
For players who love activity and fights to earn Honor buffs, Rageon Online implemented the system that let you choose between Academy or Activity, both of which offer Honor buffs.


However, who have Academy Honor buffs can't get Activity Honor buffs, so we simply added 2 Honor ranks: Activity Top 50 and Academy which have Top 50 as well.


The biggest and most exciting challenge is the struggle and competition for the top in most gameplay systems such as unique monster hunting, alchemy, job mode and trading goods.


Our Alchemy system is fun and suit the long term system very well.
You will have to collect a lot of materials in order to reach the highest plus.
Max plus:
+10 Without Advanced / +12 With Advanced.
Alchemy rates are displayed at all Lucky powders in-game.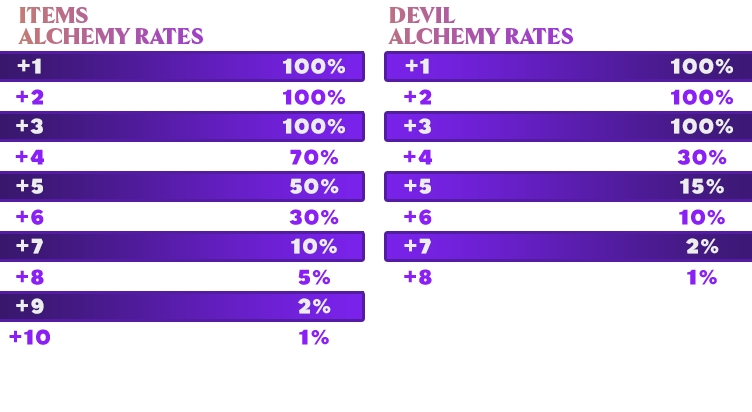 We provide a Magic Pop system that offers a wide range of rare and valuable items as rewards, so if you're feeling lucky, you can give it a try.


✦ Daily Unique Event (STR/INT) ✦
We offer a massively enjoyable event where a specific number of uniques are spawned. You'll have to face the challenge of defeating them, and you'll receive points for each kill. The player with the most points at the end wins the event.

✦ PvP Matching ✦
If you think you're the top 1v1 PvP player, you can put your skills to the test with our PvP Matching Event. To participate, you'll need to pay a registration fee of 10 silk. The winner will receive 20 silk, and in the event of a draw, both players will receive 50% of the fee, which is 5 silk.

✦ Unique Matching ✦
If you're up for a challenge, you can participate in our 1v1 Unique Matching event. The registration fee is 10 silk, and the objective is to be the first to kill the unique. The winner will receive 20 silk as a prize.

✦ Survival Arena (Solo) ✦
Fight against everyone who register to score one of the highest 3 scores.
Rewards are: 1st: 200 Gift Silks 2nd:150 Gift Silks 3rd: 100 Gift Silks

✦ Defend The Tower ✦
You will find 2 towers, your tower and the opponent tower, you need to protect yours and destroy theirs, whoever succeed, wins the event.
Reward is 50 Gift silk for each player in the winner team.

✦ Last Man Standing ✦
Fight against everyone who register in order to survive and become Last man standing.
Rewards: 100 Gift silk for the Winner

✦ Madness ✦
In a designated area, a unique will spawn, and your mission is to be the first one to kill it while also fighting against other players and defending yourself.
Rewards: 100 Gift Silks

✦ Silk Lottery ✦
You will have to pay 10 silks to participate and once the event ends, 3 random registered players will be selected and rewarded with the collected silks equally.




✦ Facebook Page ✦

Follow us in our Facebook page to know the latest news, also we will be running events every week with big rewards so, if you want to get a chance of winning silks and speical rewards every week, you will be had to participate in weekly events.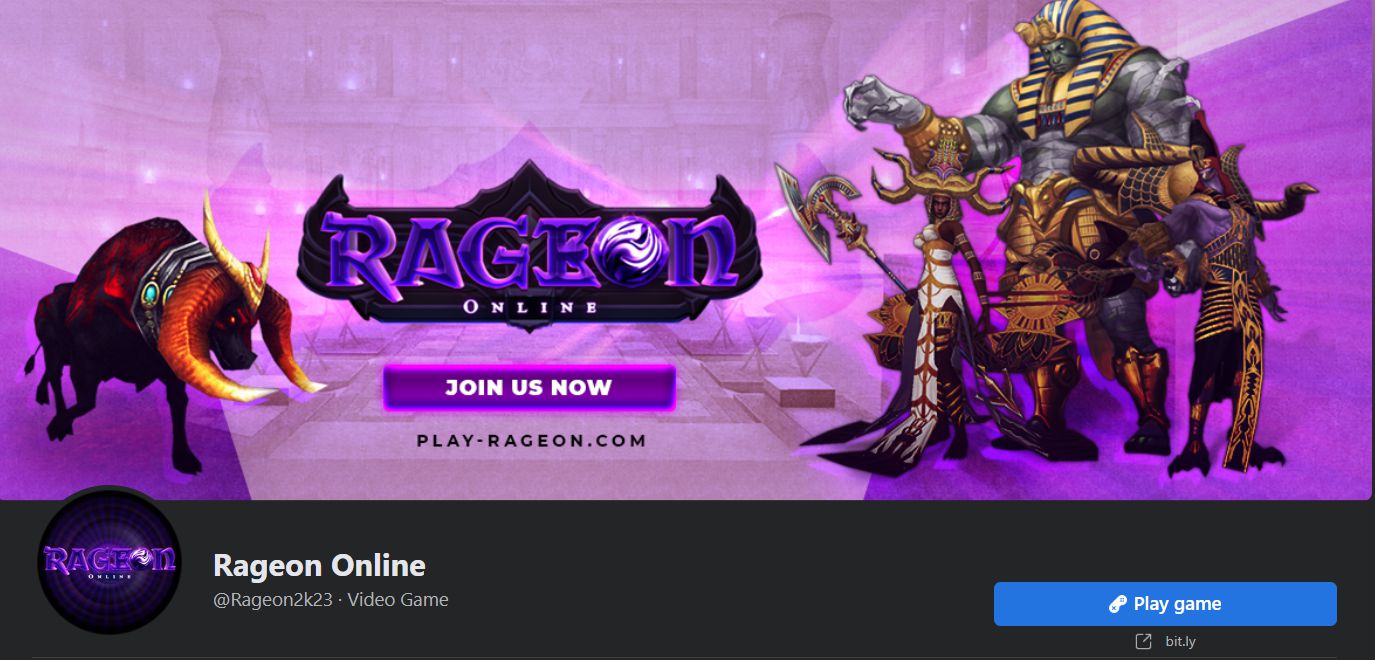 ✦ Discord Server ✦

You can stay in touch with the game admins, supporters, and players by joining our Discord Server. Also, we hosting a big giveaways in discord.


✦ Signature Event ✦

A free chance to win free silk in the grand opening. Just use our forum signature code (copy & paste) a free chance to win 200 Gift silk. All you need to do to win the silk' is copying this code down below and putting it in your forum signature.
Code:

[CENTER][URL="https://www.elitepvpers.com/forum/sro-pserver-advertising/5119798-rageon-online-cap-110-open-market-old-school-hard-rate-balanced-g-o-24-03-a.html"][IMG=expandable: 0]http://i.epvpimg.com/ScrLbab.png[/IMG][/URL]
[IMG=expandable: 0]http://i.epvpimg.com/Txfngab.png[/IMG][URL="https://bit.ly/epvpdiscord"][IMG=expandable: 0]http://i.epvpimg.com/nctidab.png[/IMG][/URL][URL="https://play-rageon.com/"][IMG=expandable: 0]http://i.epvpimg.com/b41sgab.png[/IMG][/URL][URL="https://www.facebook.com/Rageon2k23"][IMG=expandable: 0]https://i.epvpimg.com/ApWlbab.png[/IMG][/URL][IMG=expandable: 0]https://i.epvpimg.com/zNkncab.png[/IMG][/CENTER]