Bot lobby software that allow you to rank up fast and complete daily challenges, missions, camo unlocks and etc
High and FAST Weapon and Rank XP Feature!
Anticheats:
-
Custom Anticheat: Undetected*
Game Version:
- Latest(Battle.net) - Working on Season 6
Windows Support:
Windows 10 version 1909-22H2! | Intel and AMD Processor Supported.
Requirements:
- This program only available for 1 day access as of now;
- We have tested it and no bans so far, but you are using it on your own risk;
- You are not allowed to share or tell anyone how this method works, this is for your safety;
- This method can be fixed anytime;
- By purchase our software you are agreed with all above;
Features:
Players
- Player 1 - 4 (separate setup)
- God Mode
- Unlimited Ammo
- Set Money
— Amount (0 - 50000$)
- Invisible
- Set XP
— Amount (100 - 50000)
- Set Weapon XP
— Amount (100 - 50000)
- Camo Unlock
Zombies
- General
— Set HP
— Amount (0 - 100)
- Features
— Mass Kill
- Hit Options
— Always Critical Hit
— One Hit Kill
::Menu::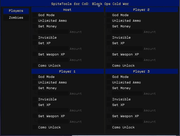 ::Video::
Click here to see video
Click here to see video
---
Quote:

Purchase Lobby: Please request trade once you made success purchase or before purchase!
1 Day: 6 USD per Day!
Purchase Now

Instant delivery to your email after purchase, full guide included!
---
If you have any questions:
Note: I don't use Skype and not listed contacts below for any sales (If you find anyone with my name, its fake).
Message me in Instagram
940800
banek192
Our TikTok
E-mail:

[email protected]

PM at Elitepvpers: Send PM
*
- Please note that cheating is always risk and you should understand this when you purchase cheat. We do our best to keep cheat undetected, but if it will be detected all your time will be frozen and cheat going to update. We dont do refunds once you redeem key!