Indeed, the last title of Far Cry series is not that long ago. However, Tony Key - President of Marketing and Sales at Ubisoft - confirmed, that Far Cry 4 is already in development and that further information will probably be revealed very soon. According to rumours, this might be done already at gamescom next month.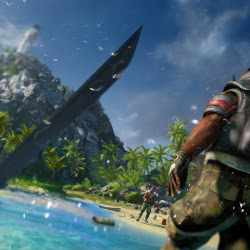 Far Cry 3 was awarded as the best shooter game in year 2012 and it has been sold already 6 million times until now. Even Ubisoft is still really into this game and raves about it. Officially it was stated:
"We're totally psyched from Far Cry 3. It's a great brand, and now it's got the recognition it deserves, so we're clearly going to make another one: more on that soon."
We are free to look forward to an open, atmospheric and dynamic game world in Far Cry 4 - likewise as in the previous title. Only recently Key confirmed, that Ubisoft would like to focus on open world for all of their games in the future:

"I think open world can represent the future of, you know, gaming, and that's where we're investing huge portions of our resources - because we believe that that is what consumers want."
But let's get back to Far Cry 4 - more details are said to be available "soon", maybe even at this year's gamescom. Are you going to purchase this crazy island-shooter and do you feel the same astonishment about Far Cry 3 as Ubisoft?