Ho-Ho-Ho! elitepvpers is celebrating Christmas!
As every year at this time, it is getting colder, nights are drawing in sooner and sooner. When you can spot the first snowflakes, you just know it's Christmas time again!
Perhaps you've already sweetened your day with a visit to a Christmas market having hot spiced wine or eggnog along with traditional sausage. In any case we wish you a merry Christmas.
And since you – well, most of you anyway – have been nice this year, Santa Claus left us some presents that we were not planning on keeping back from you.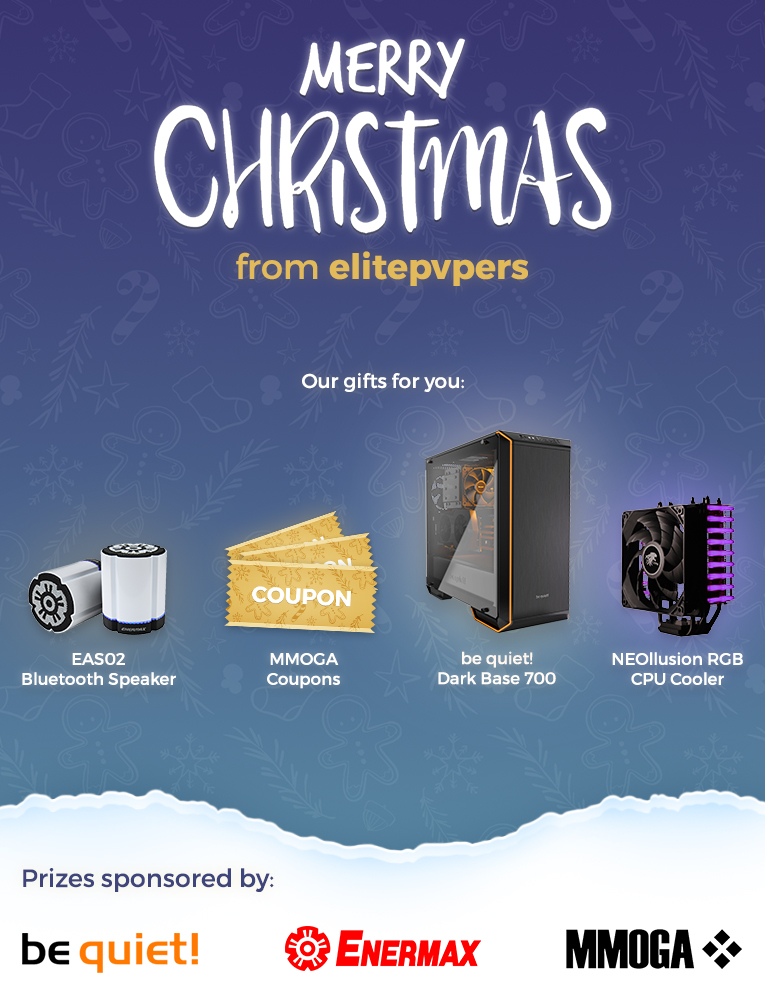 Now you might be asking yourself how to win one of our awesome prices.
As usual, we have prepared a small task for you: show us how you celebrate Christmas and be as creative as you want to be. Be it a festively decorated Christmas tree, the Advent wreath or other decoration, your decorated PC or anything that makes your Christmas special.
But remember that there has to be a note with your username and date on the photo to ensure that your contribution is genuine. You wouldn't want us to have Belsnickel pay you a visit, would you?
Many thanks go to
be quiet!
,
Enermax
,
LEPA
and
MMOGA
for providing us with awesome prices. Be sure to pay them a visit and you may just find the Christmas present you were looking for. ;)
The Prices
1st Place
be quiet! Dark Base 700 case + 50€ MMOGA coupon
2nd Place
LEPA NEOIlusion RGB CPU cooler + 50€ MMOGA coupon
3rd Place
Enermax Stereotwin Bluetooth loudspeaker + 50€ MMOGA coupon + 3 years Premium membership
4th Place
Enermax Stereotwin Bluetooth loudspeaker+ 50€ MMOGA coupon + 1 year Premium membership
5th Place
50€ MMOGA coupon + 1 year Premium membership
6th Place
1 year Premium membership + 260 elite*gold
7th Place
260 elite*gold
Participation Conditions
Deadline is January 3rd, 2018, 23:59 (UTC+1)
The seven best decorations will be selected by our internal jury that will consider factors like creativity, quality, effort and relevance
Pictures with your best decorations are to be posted here: Click here
Only one post per user (you may post several pictures within the same post though)
Trolling will get you disqualified!

So that's it?
Of course not! Last year we introduced our Community Secret Santa which is going to make its return this year. Your feedback from last year has been taken into account and our little elves have optimized the system accordingly.
If you would like to participate in the Community Secret Santa, you can login
here
with your elitepvpers account. You can decide whether to send and receive a present physically, in which case you have to enter your name and address, or to keep it at a virtual level without having to enter your address.
Please note that you have to register until December 21st, 2017. One day later, we will draw the pairings and inform you about your Secret Santa partner via PM. After that, it will be time to exchange presents for which you will have until January 4th, 2018. Please be a good sport and only send a gift that you would also be happy about yourself. We want the Community Secret Santa to be a positive experience for everyone!

Are we finished yet?
Not quite! After our ghosts had to take an unplanned break on Halloween due to some technical difficulties, they have received a new update that has turned them into small Christmas trees, presents and St Nicholas, all of which might hold in store some more surprises. So be on the lookout for anything Christmassy!