The "Grand Theft Auto" series - known as GTA - has always been known for its open game worlds, which bring along variety thanks to huge and impressive landscape environments. Already some time ago developer Rockstar announced that the coming, eleventh title - which will be released on September 17 this year - is going to have the biggest map they have ever created and that it is going to exceed the maps of previous titles "GTA IV" and also "Grand Theft Auto: San Andreas" by a large margin. Rumours around the size and exact looks of it spread around for some months now and recently ago a fan succeeded in creating a sketchy, but however pretty realistic and authentic map. He used many single snippets which were sent by the developer bit by bit and published in many different ways.
Aforementioned seems not to be enough for the thirsty community - curiosity led to some more comparisons made by one or another. Talking about one, a user has compared the game world of GTA IV with the outlined map of coming title GTA V by bringing both on a common scale and releasing his result on
Reddit
.
The grey part represents the map of previous title GTA IV; the whole blue background the game world of coming GTA V. Of course one shouldn't forget, that this is just the work made by a fan and not an official announcement.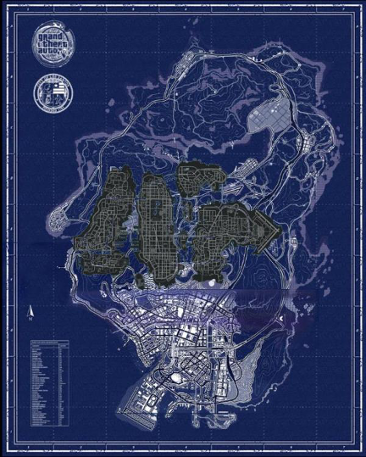 Are you looking forward to this map or do you think, that a smaller one would be enough?