Es ist soweit,der letzte Teil der Reihe ist am 14.08.2018 erschienen und ist bei Steam erhältlich für einen Preis von 19,99 € .
Das Flaggschiff des berühmten Spieleentwicklers Telltale Games erzählt das Ende von Clementine und AJ.
Wir erinnern uns,der erste Teil ist vor über sechs Jahren erschienen und erzählte uns noch die Geschichte von Lee,der verurteilt wurde und während des Anfangs der Apokalypse ins Gefängnis gefahren worden war,später kam es zu einem Unfall und er musste aus dem Fahrzeug fliehen und irrte umher. Bis er in ein Haus kam und später die zu dem Zeitpunkt achtjährige Clementine traf die sich ihn ihrem Baumhaus verschanzte und die getrennt von ihrer Familie war,während das Unglück geschah.
Kurz um fassten sie den Plan zusammen zu ziehen,Clementine zur ihrer Familie zu bringen und auf dem Meer zu segeln,sicher von den gefräßigen Untoten,doch es kam alles ganz anders und die Apokalypse verlangte alles von ihnen ab.
Wir lernten in der Zeit viele Charakter kennen und ihre Geschichten,ihren Kummer und ihre Verluste.Lernten sie hassen und lieben,litten mit ihnen und freuten uns,wenn ihnen mal was gutes geschah.
Mit diesem letztem Teil endet die Geschichte von Clementine,aber eventuell nicht die Reihe.Es kam schon einmal das Spin-Off mit Michonne raus,vielleicht kommen noch andere Teile,wir wissen das The Walking Dead Universum ist riesig,aber ich schweife ab von dem eigentlichem Thema.
Vor allem fasziniert mich etwas an der diesbezüglichen Geschichte,das es sich wiederholt im ersten Teil musste sich Lee noch um Clementine kümmern,nach all den Jahren ist Clementine erwachsen geworden und muss sich jetzt um AJ kümmern,den Sohn von Rebecca aus dem zweiten Teil.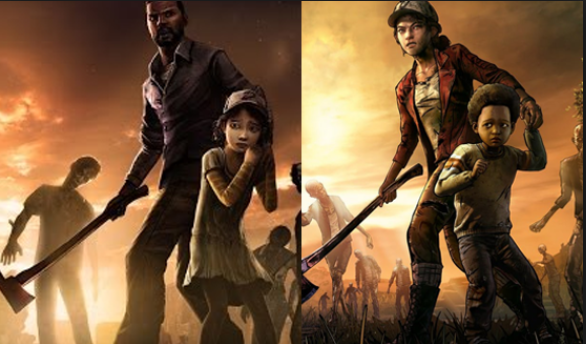 Ich bin leidenschaftlicher Fan der Reihe und habe schon alle Spiele durch der Reihe,leider wie üblich werden alle Kapitel nicht gleichzeitig veröffentlicht sondern nach und nach.
Und zwar an folgenden Tagen:
Episode 2 - Suffer the Children: 25. September
Episode 3 - Broken Toys: 6. November
Episode 4 - Take Us Back: 18. Dezember
Wir sind also gespannt,was uns noch erwarten wird und fiebern schon mit,auch wenn ich leider denke es wird kein Happy End geben.