Hallo Leute,
bei Heroes of the Storm (Hots) gibt es
vom 15. November bis zum 4. Januar
, eine tolle Aktion, bei der Ihr mit Freunden 15 oder 30 Spiele spielen müsst.
Ihr erhaltet nach 15 Spielen den Overwatch Inhalt, den Hots Helden Zarya + Portrait.

Nach 30 Spielen gibt es dann das Reittier und weitere Helden für Hots so wie einen Monat Lang einen Stimpack (Xp + Gold Booster).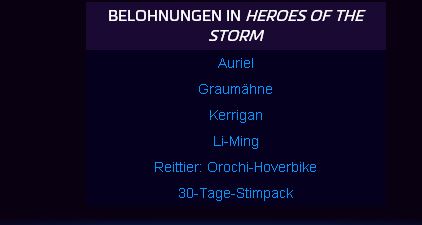 Solltet Ihr Overwatch auf der Konsole spielen, denke ich das euer Heroes of the Storm Account mit dem wo Ihr Hots spielt verbunden sein muss, so weit ich weiß kann man seinen Overwatch Account nur einmal verbinden.
Überprüft das
vor dem
15. November!
Hier noch ein Tipp für ganz schnelle:
Spielt es mit irgendwelchen Leuten, die Ihr in der Freundesliste habt, geht in ein KI Spiel und nimmt mindestens eine Silvanas mit, diese schaltet die Türme aus und Ihr könnt das Spiel in der Regel in 4-6 Minuten abschließen.
Ich stehe auch zur Verfügung für Spiele, wenn Ihr noch wen benötigt.
Lieben Gruß
Dracken Darck
Link zu der Ankündigung:
Meistert die Nexus-Herausforderung gemeinsam!