Es hat sich scheinbar ein Missgeschick bei Naughty Dog eingeschlichen. Denn im Trailer von "Uncharted 4" wird ein Artwork von "Assassin's Creed 4" benutzt. War das mit Absicht?
Bei dem Release des aktuellen Trailers von "Uncharted 4" ist leider etwas missglückt.
Denn die Entwickler haben vor der Veröffentlichung des Trailers vergessen, das Video noch einmal nach Fehlern zu untersuchen und den Platzhalter aus diesem zu entfernen.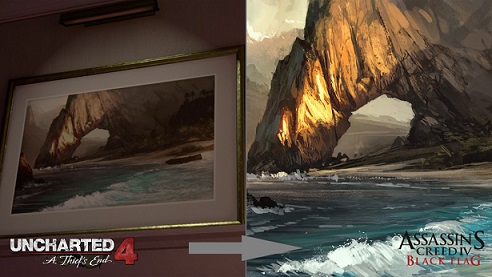 Dies ist Azaizia Aymar, "Head of Assassin's Creed content" direkt aufgefallen. Er twitterte unter anderem mit der Antwort "I get the thief".
Damit spielt er auf den Titel von "Uncharted 4 – A Thief's End" an.
Naughty Dog ersetzte das Bild jedoch unverzüglich nachdem der Fehler aufgefallen ist und entschuldigte sich für die Verwendung des Bildes.