Dieses Jahr erscheint es endlich: Naughty Dogs Adventure-Perle Uncharted 4: A Thief's End. Wer bisher den Multiplayer von Uncharted 3: Drake's Deception mal ausprobiert hat, kann aufatmen: Der vierte Teil der Serie wird ebenfalls einen Multiplayer besitzen - Infos zu den Modis sind bisher noch nicht bekannt. Wer bereits die Kampagne von The Last of Us, ein weiteres Meisterwerk von Naughty Dog, angespielt hat, wird sicherlich mitbekommen haben, dass ihr einen treuen Begleiter an eurer Seite habt. So ähnlich soll das auch in Uncharted 4 funktionieren. Der Treue Begleiter ist diesmal Sam, Nathan Drakes Bruder, dem er seit Langem nicht mehr gesehen hat und bereits für tot erklärte.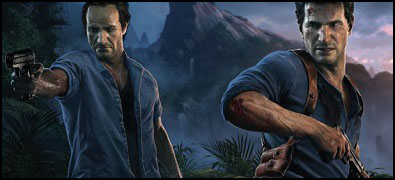 Der Teil spielt 3 Jahre nach dem Ereignis vom Vorgänger Uncharted 3: Drake's Deception und verschleppt euch nach Madagaskar, wo ein mysteriöses Artefakt versteckt sein soll. Jedoch seit ihr nicht die einzigen, die sich für diesen Schatz interessieren, eine von Piraten gegründete Kolonie sind auch stark am Schatz interessiert und geben alles dafür, um den Schatz zu finden. Neben der Kolonie wird Drake auch Rafe kennenlernen, welcher auch stark am Schatz interessiert ist und mit ganz anderen Moralvorstellungen vorgeht, als ihr euch vorstellen könnt. Auch werdet ihr in Uncharted 4 ein größeres Inventar besitzen um Waffen, Rüstungen und vieles mehr transportieren zu können. Anders als in den bisher erschienenen Teilen werdet ihr Nebenmissionen abschließen können.

Das Spiel erscheint Ende 2015 exklusiv für PlayStation 4 - wie in The Last of Us Remastered wird eine Bildrate von 1080p und eine Framerate von 60 FPS angestrebt. Bereits auf der PlayStation-Experience 2014 lief die Demo in flüssigen 30 FPS.

Kauft ihr euch Uncharted 4: A Thief's End?