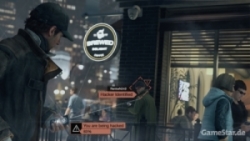 As publisher Ubisoft has recently confirmed in its
, open world action-adventure game "Watch Dogs" is going to be released for PC and consoles during the first quartal of this year. Said quartal runs from April 1 to June 30, 2014. The delay of release date, which had been announced by publisher Ubisoft some months ago, is in accord with these informations.
Ubisoft's new game was originally planned as a launch title for PlayStation 4 and Xbox One. Both of them were published in November, 2013. Wii U version should be published after release of the other platforms. Ubisoft hasn't given reasons for this delay yet.
"Watch Dogs" is a third-person action game by Ubisoft's development studios in Montreal and is set in Chicago in the near future. Because of its open urban game world, it's called "GTA" rival. Players will assume the role of Aiden Pearce who is able to hack into any systems and manipulate them to his own advantage. That's why there are several solution possibilities to complete missions.