Australian studio Team Bondi faced a new wave of dismissal after their new game "***** of the Orient" failed to find a publisher.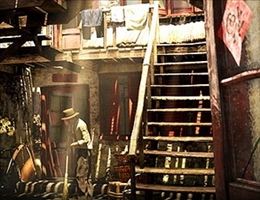 The creators of the successful game L.A. Noire not fully ensure of their destiny. After the 2nd quarter of 2011 the Kennedy Miller Mitchell studio found a new owner, which was affected by another wave of layoffs. It is not known how many employees Team Bondi released, but the situation is not idyllic for the development of their next game, titled
***** of the Orient
, is now in question.
Especially that team was greeted by this turn of events. Planned publisher Warner Bros. retired from conventional publishing roles at the end of last year and as Team Bondi failed to find a new publisher, the development of the game is paused until further notice.
The owners of the team are still actively looking for partners and investors, but until they find one, ***** of the Orient will stand waiting, which means that any planned release of the game during the year 2015 was highly unlikely to be met.