Promotional poster at GameStop, has revealed several new details about the Battlefield 4. Commander Mode is coming back, and we know that there is three factions in multiplayer.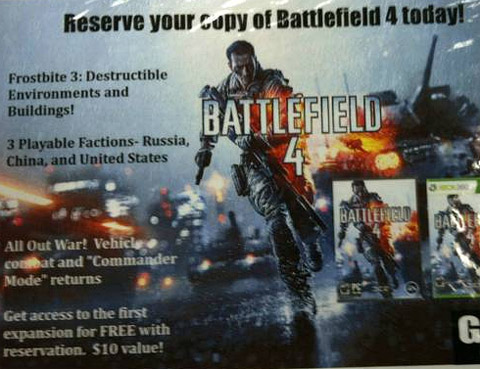 Although we have not seen it in Battlefield 3, The Commander Mode seen in some previous sequels Battlefield has been remained silent suffering fans of the series but it seems that Commander Mode restores the recently released Battlefield 4.
We have Revealed a promotional poster for the game and a poster for GameStop store. GameStop Store will confirmed that the game will have three playable factions in its multiplayer.
So we will be able to play on the U.S., China and Russia etc. even though poster does not seems to mention these fractions relate solely to the multiplayer part of the game. EA has previously confirmed that the single player game´s has more experience and it has been designed to focus on only one playable character.
Poster also reveals that the first expansion for the new game cost $ 10 (Battlefield 3 expansions have cost $ 15), while other promotional material reveals that the expansion is called 'Drone Strike'. It is not known what that expansion does and what will it bring into playing, but anyway the prior information about wanting to hear occasional concrete are officialy word directly from the EA.