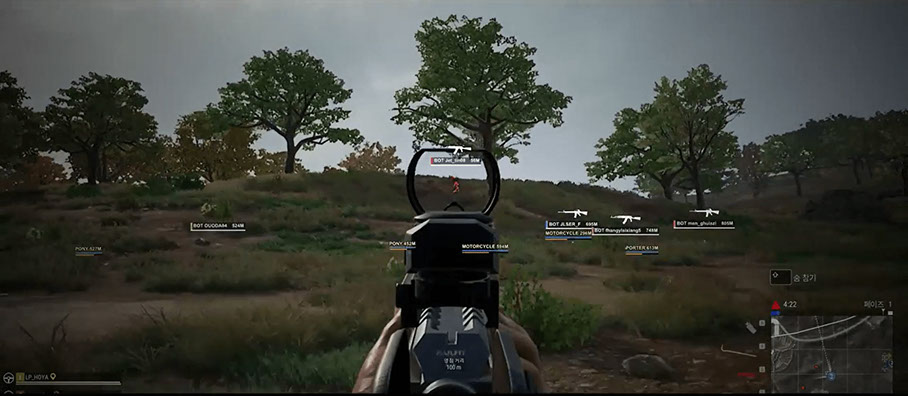 Buy a working private cheat
GGWP for the PUBG game
We present to your attention the current private cheat GGWP for the PUBG game. It was created by a reliable developer whose cheats are actively sold on our website. An up-to-date program with easy launch and installation. After the technical work in the game, the creator compensates for the time. Maintains a minimal chance of blocking and optimizes if necessary. Well-developed functionality that will allow you to completely dominate your opponent.
An accurate AimBot, from which no enemy can hide. A lot of settings that will allow you to optimize it for your style of play. Suitable for both legit and range players.
Select the enemies outside the walls, you will see loot. Everyone will find something interesting for themselves.
Cheat system requirements
Window Mode: Windowed, Frameless;
Supported CPUs: Intel/AMD;
Supported GPUs: NVIDIA/AMD;
Supported OS: Windows x64 10/11;
You can purchase GGWP for PUBG online on our website:
ivsofte.biz/ggwp-pubg.html
Cheat functionality
AIMBOT [Aimbot]:
Enable - Enable the aimbot;
Teammate - Aimbot for allies;
Swap Target - Change the target;
Visible Check - Check for visibility;
Ignore Knocked - Ignore the knocks;
Sway Control - Sight swing control;
Recoil Control - Recoil control;
Prediction - Predicting the movement of goals;
Shift To Head - Shift for pointing to the head;
First Bone - Aim's first Bone;
Second Bone - Aim's Second Bone;
First key for first bone - Activation key for the first bone of aim;
Second key for second bone - Activation key for the second bone of aim;
FOV - Draw a circle of FOV;
Speed - Speed;
Smooth Pitch - Smoothness of aiming;
Smooth Yaw - Smoothness of sharpness;
Recoil Pitch - No recoil (Only with aim);
Recoil Yaw No Recoil (Only with aim);
Distance - The working distance of the aim;
ESP Players [ESP Players]:
Draw Players - ESP on players;
Draw Teammate - Display allies;
Draw Nickname - Nicknames of players;
Draw Kills - Player Kills;
Draw Spectators - Observers for you;
Draw Level - The level of the players;
Draw Weapon Icon - The enemy's weapon (icon);
Draw Health Bar - Players' Health;
Draw Corner Box - Boxes of corpses;
Draw Skeleton - Skeletons of players;
Draw Direction - Player's direction;
Draw Aiming At Me - Show when someone is aiming at me;
Draw Distance - The distance to the player;
Draw Team Indicator - The player's team number;
Outline Text - Text outline;
Distance - The working distance of the esp;
Font Size - Text Size;
Top Offset - Upper offset;
Weapon Icon Scale - The size of the weapon icon;
Skeleton Thickness - The thickness of skeletons;
Items ESP [Items ESP]:
Draw Loot - Display loot:
- Draw ARs;
- Draw DMRs;
- Draw SRs;
- Draw Ammo;
- Draw Grenades;
- Draw Medicines;
- Draw Equipment;
- Draw Attachments;
Draw Distance - The distance to the loot;
Draw Icon - Loot in pictures;
Distance - Display distance;
Font Size - Text Size;
Icon Scale - Icon size;
ESP Vehicles [ESP Transport]:
Draw Vehicles - Display cars;
Draw Distance - Distance to the car;
Draw Health - Percentage of car breakdowns;
Draw Fuel - Amount of gasoline;
Distance - The working distance of the esp;
Font Size - Text Size;
Airdrops [Airdrops]:
Draw Airdrops - Show airdrops;
Draw Distance - Distance to airdrop;
Distance - The working distance of the esp;
Font Size - Text Size;
Death Iteams [Boxes of corpses]:
Draw Loot Boxes - Select boxes of corpses;
Draw Distance - The distance to the boxes;
Distance - The working distance of the esp;
Font Size - Text Size;
MISC [Miscellaneous]:
—— Projectiles ——
Draw Projectiles - Show flying grenades;
Draw Distance - Distance;
Draw Icon - Picture;
Draw Countdown - Seconds before the explosion;
Type - Type;
Distance - The working distance of the esp;
Font Size - Text Size;
Icon Scale - Icon size;
—— Other ——
Draw Mini Map Radar - Radar on a minimap;
Draw Big Map Radar - Radar on a large map (temporarily not working);
Draw Aiming At Me - Display on the radar who is aiming at you;
Draw Spectators - Observers for you;
Draw FOV - Display the radius;