Bandai Namco announced the release of "One Piece: Thousand Storm" for the European region via their European Twitter account. So fans may be curious about a mobile game for iOS- and Android systems soon. You can already pre-register on their official website to receive a welcome gift free of charge.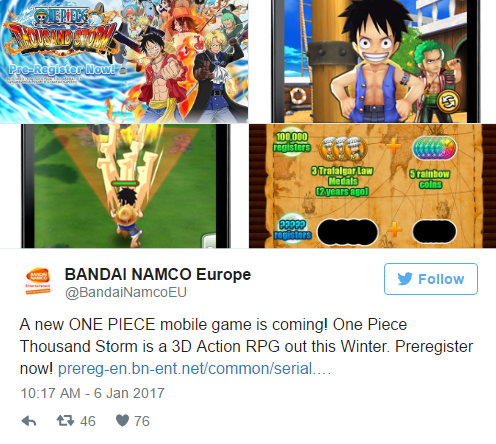 One Piece: Thousand Storm game description (via itunes.apple-store):
■
About the Game
With easy controls, blast your skills and defeat your opponents!
Luffy, Zoro, Nami, Usopp… Starting with characters of the Straw Hat Pirates, Trafalgar Law, Doflamingo and many other characters from the anime will be in action!
■
Exhilarating Battles with Easy Controls
Touch the opponent to change target, or touch the ground to freely move around the field! Take your opponents back, or rush to your friends for support! Unleash the power with Special Skills! With easy to learn battle system, wipe out your enemies!
■
Character Development
Various memorable scenes from the anime are now available in game as Scene Cards! Equip scene cards to improve your character stats! If the scene card is a skill-attached scene card, Character will learn a new skill once equipped! Collect the most memorable scenes and develop your characters.
■
Communication
Pre-battle planning and strategy guidance- take part in communication in the Lobby! Use "Sticker Chat" for instant communication in battle!