DICE is seeming to go all out with this new release, officially announcing Battlefield 1 with tons of information about it. What is the theme going to be this time? Well, as rumours were going around, it is indeed true. It's going to be World War 1. Of course, even with all the information they provided, they did indeed provide a trailer as well. Which you may watch down below.
So, lets jump into the pre-order information first, shall we? First of all things, it is coming out on PC, Xbox One and PS4. With a reveal of two different editions, apart from the regular. Early Enlister Deluxe Edition and a Collectors Edition, which seems to be only available via Amazon.
If you choose to pre-order the game, you will get the Hellfighter Pack which carries an influence from the
American 369th Infantry Regimant "Harlem Hellfighters"
. What will that contain?
Hellfighter M1911
Harlem Hellfighters Insignia
Hellfighter Trench Shotgun
Hellfighter Bolo Knife
7 days early access to a map released later on in 2016.
The game is coming out on the 21st, however if you do buy the Deluxe edition, you will be able to play the game three days early. Making that the 18th. What do you get from the Deluxe Edition?
Red Baron Pack
Lawrence of Arabia Pack
A visual appreance change on three massive vehicles
Five battlepacks
What do those packs contain? Various types of skins which will change the skins of certain guns, sidearms and even a horse appearance change.
Of course, we can't forget about the Battlefield 1's Collectors Edition, and for those hardcore fans, I feel like it's worth it. What will it include?
Battlefield 1 Deluxe Copy of the game, meaning you will get everything said above.
Collectors Edition Statue, which is 14" tall.
An exlusive steel book
An exclusive cloth poster.
Deck of playing cards.
A messenger pigeon tube, containing exlcusive DLC content
Premium packaging.
Exclusive Patch
Want to see it in form of a screenshot? By all means.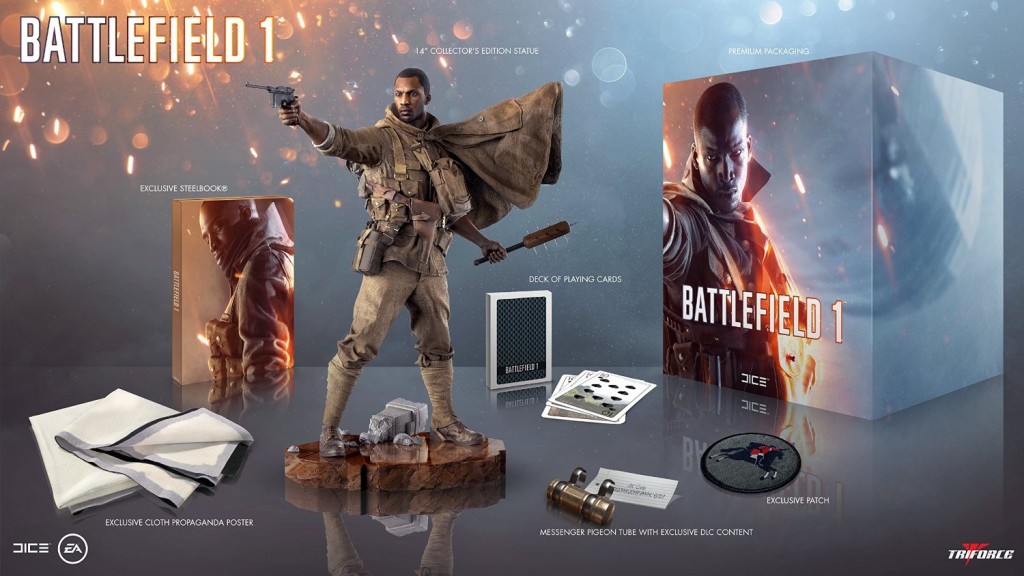 What is this all priced at? The standard version of the game will be priced at $60, the Deluxe edition being priced at $80, and the Collectors Edition being at a sum of $220.
But wait, there's more! Battlefield 1 will still be following just like Battlefield 4 did, and you will still be able to fight with upto 64 players. With being able to use vehicles such as tanks, bikes, biplanes and even gigantic battleships. Featuring numerous locations in which World War 1 happened in, such as the Alps and even the insane deserts in Arabia.
Credits go to
PSU
for this part, as they also were able to obtain some impressive screenshots.