French game developer Ubisoft carried on negotiations with different movie studios over years to organize a live-action adaptation of action-adventure series "Assassin's Creed" and to bring it into cinemas worldwide. However, said negotiations did not come to a noteworthy result which is why Ubisoft set up its own movie studio called Ubisoft Motion Pictures in 2011. For some time past, it has been known that the French studio is putting the original idea into action. The film is expected to appear in December, 2016. After three short movies and two further animations being shot in association with Sony Pictures, the movie being currently in post-production is the first production with a three-digit million budget; Jean-Julien Baronnet, chief executive officer at Ubisoft Motion Pictures, spent US $200,000,000 on the project.

While Justin Kurzel takes charge, Michael Fassbender will take the leading role in the adaptation. The German-Irish actor is, among other things, well known for his roles in movies such as "Inglourious Basterds", "X-Men: First Class" and "X-Men: Days of Future Past", but also for his representations in biographical movie "Steve Jobs" and in drama movie "12 Years a Slave". In an interview with Entertainment Weekly, Fassbender tells that before contacting Ubisoft, he had never played a game of action series "Assassin's Creed". Only then has he taken games to heart in order to get an idea of the appearance of the character that he represents.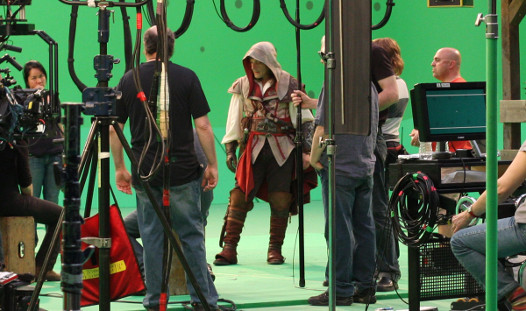 This is how parts of shooting could have looked.
Fassbender plays protagonist Callum Lynch in the movie. This character does not appear in any previously published titles as it was important to CEO Baronnet that supporters of the assassinators series not only hear and experience known things, but also see new faces and scenarios. In return, loyal and faithful fans of the series are taken into account, Fassbender says.

"We're striving to find something special. We believe the whole concept around it is special and want to service that the best we can. The fans are really passionate: very specific and they expect accuracy and historical detail. We're really trying to capitalize and feed on and enjoy the fun element. We're working hard to make this something special", the actor explains.
The storyline of the live-action adaptation has many things in common with previous games. Through a revolutionary technology enabling genetical memories or rather eliciting persons, it is possible for Callum Lynch to re-experience adventures of his ancestor by the name of Aguilar – in 15th century of Spain. Callum realizes that he descends from a mysterious secret society, the so-called assassinators. He develops skills and knowledge which help him to be able to fight the oppressive and mighty organisation of Templars.

Besides Michael Fassbender, many further known actors such as Marion Cotillard ("Inception", "The Dark Knight Rises" and "Macbeth" among others), Brendan Gleeson ("28 Days Laters", "Gangs of New York", "Harry Potter" series) and Michael Kenneth Williams ("12 Years a Slave", "The Road", "Gone Baby gone" and "RoboCop") come into the picture.