The joyful anticipation of fans at the new Star Wars film is so enormous that booking systems could set a new record during the start of the pre-order for sold tickets. Just IMAX cinemas in the USA registered a $6.500.000 turnover. According to its own statements, never before a reward over 1 million US Dollar were achieved during a pre-sale. Lately, some online booking systems crashed due to the tremendous rush on tickets.
US Magazine Hollywood Reporter states that Fandango sold tickets eight times as much as record holder "The Hunger Games" did back in 2012. Movietickets.com also achieved new records, within 24 hours they have sold three times more tickets than they have done ever before. Besides the fact that 95 percent of sold tickets are dedicated to the Star Wars, just within a few hours after the start, thousands of shows are sold out completely.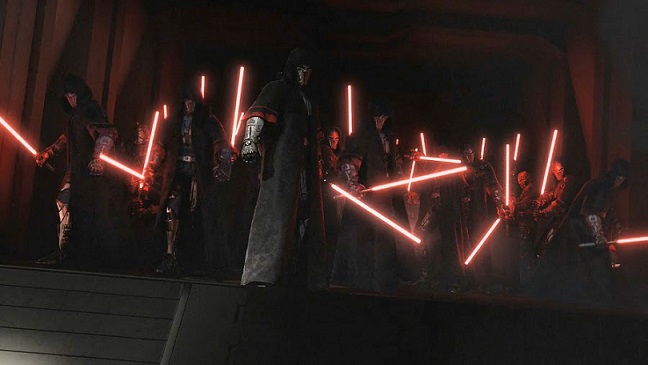 Quote:

The story takes place approximately 30 years after the events of Return of the Jedi, but will feature the stars of the 'middle' trilogy, Mark Hamill (Luke Skywalker), Harrison Ford (Han Solo), and Carrie Fisher (Princess Leia Organa). Also on board from the original trilogy are Kenny Baker, Anthony Daniels and Peter Mayhew - reprising the roles of R2D2, C3PO and Chewbacca respectively.
Quotation from an introduction to the film
--------------------------------------------------------------------------------------------------------------------------------------------------------- United Content
is a collaborative project of all content ranks on elitepvpers.com. The aim is to provide you with all important information on particularly exciting and interesting topics. The current topic is Star Wars: Battlefront's release and we will present several articles, podcasts etc. regarding this until November 19th. In order to have an overview of all posts made in the course of this project, just click on the United Content tag or
here
.
Do you also want to be a part of content team? Then apply for it! All information and requirements on the individual ranks can be found
here
.
Source
https://www.elitepvpers.com/forum/ga...e-rekorde.html