Fans of the popular MMORPG World of Warcraft have the possibility to get a total amount of 2,057 achievements. Even though players managed to get all of them in the past, the Ukrainian player who goes by the name of
Хируко
is the first one to do this including the "Mists of Pandaria" DLC and all of the endgame content.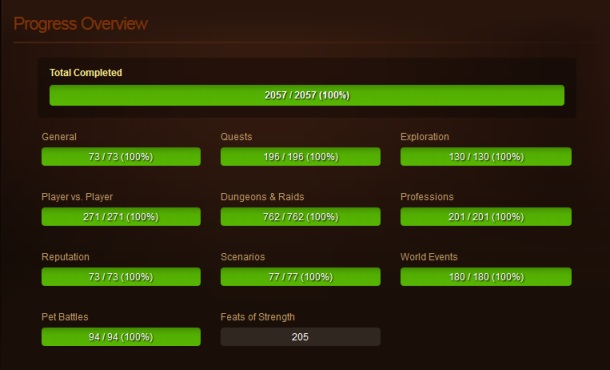 And some of them were really hard ones to achieve. For instance, the hardcore gamer had to kill the same monster over and over again, or even kill 100,000 enemies in player vs. player combat. To achieve the really tough ones, he requested the help of his guild. All of the members were supporting his completion of the achievement where he had to get one character of each class to the maximum level as the first person on the entire realm.
According to his own statement
, he had not only played several characters at the same time, but also charged his guild mates with the order to kill anyone who tries to get the achievement he was going for, so that he had more time to complete it by himself. The biggest problem had been his computer, though, as he was trying to keep it running normally whilst still running 12 game clients at the same time.
What's your opinion on the achievement hunter and his unusual strategy?
Original Source:
World of Warcraft: Spieler erringt alle Erfolge