Some years ago, Nintendo announced to introduce a new generation - with help of Wii's Vitality Sensor - which was supposed to reach the next level of video gaming. After countless years without any information about this project, it was now announced that they have discontinued their device due to high failure rates.
With the presence of Wii U on the market, Nintento supposedly would like to clarify their situation and results about the Vitality Sensor once and for all. Originally this device was planned to work as heart rate monitor, which additionally could be plugged into the Wii controller. Electronically recorded heart rates could influence the whole gaming process to offer a more realistic gaming experience. Satoru Iwata - President of Nintendo - has finally announced the end of developmental work on their project, because this controller didn't function as well as it was supposed to.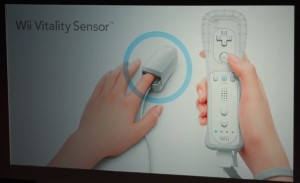 "The Wii Vitality Sensor is an interesting device, and we did various experiments to see what is possible when it was combined with a video game. But, as a result, we have not been able to launch it as a commercial product because we could not get it to work as we expected and it was of narrower application than we had originally thought."

"However, after a large-scale test of a prototype inside the company, we found out that for some people the sensor did not work as expected."
It's a fact, that this device was funtioning properly for only about 90% of testees, which is not enough, as a success rate of nearly 100% (99.9%) is needed for a market-ready product.