Every year there is a convention held by developer Mojang all about Minecraft, which is a game of its own genre. It is always taking place somewhere else every year and finally the date and location have been announced. This year, the MineCon is said to take place in the American city Orleans.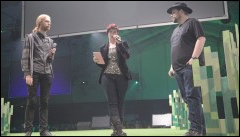 Already some time ago, the developer announced they would be holding their own Minecraft convention for brick-loving fans as well this year - keeping back information regarding a more precise location than America. Now we know, that Orleans was chosen and that it's going to take place from November 2 until November 3. Already next month in July, pre-sales of tickets are supposed to start - neither exact date for this nor the ticket price are yet known. Worth mentioning is also, that tickets have to be bought during pre-sale, as there won't be any other chances to purchase them afterwards.
What exactly will be shown at the convention, if there are going to be huge innovations and what kinds of events are planned is still unknown, but you should be looking forward to some soon-coming announcements. Furthermore it can be expected, that developers Markus Persson and Jan Gergensten are going to be present at the convention as well as previously in Las Vegas and Paris.
The developer left a humorous video to sweeten their announcement, which is supposed to put their new location choice into some new light. We hope, that their choice didn't take place this way.