The announced ego-shooter Battlefield 4 - made by Electronic Arts - evokes great astonishment especially due to its revolutionary game engine Frostbite 3. Similarly, the one or another got surprised again after watching a video referring to the game engine. In this video, which is a bit longer than 4 minutes,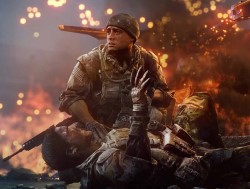 the engine's developers present us new or enhanced features and some gameplay scenes.
Especially the new engine's wind system, which for example allows to put trees in motion after explosions but as well influences the movement of water, has been presented in this short video. Destructive possibilities were taken care of, too, which has been a popular feature of previous titles of Battlefield series. Furthermore, some information regarding the characters have been unveiled - how realistic eyes might look like is one of those details.
Convince yourselves: