This morning, Electronic Arts has presented top title Battlefield 4 - the so far biggest shooter-revelation 2013 - in Stockholm, showing a 17 minute long gameplay video of solo campaign. Beside a completely new singleplayer concept and enhanced breathtaking graphics, not many new changes can be seen, although there still isn't any new information about multiplayer mode.
Dice wants to focus on solo campaign - no wonder after the slowdown of previous title's single player mode.
"Our campaign didn't have the typical Battlefield feeling"
, has been said. Now developer Dice would like to "transfer some multiplayer into singleplayer mode". How good this is going to work, can't be found out until autumn this year, because Battlefield 4 will probably be purchasable then. Let's get back to solo campaign, as there has been some heavy criticism.
"Battlefield 4 takes advantage of cheap tricks in singleplayer mode, which are violence and exaggerated drama, to keep gamers on hold"
, according to pcgames.de. Furthermore, Battlefield 4 takes example of military shooter standards. This means: pushing buttons to save lives, watching bombastic script sequences and, last but not least, marching through tubular levels and killing everything that moves.
But now let's take a look at pleasant new features. As promised, there are multiplayer additions in single player mode, which we could already see in the video. The troops have to be rescued by an allied helicopter on open field. So much for rescue: an enemy patrol in machine gun buggy has already spotted our troops. After the following gunfight, new features can be found. Firstly: it's possible to surprise the enemy by flanking.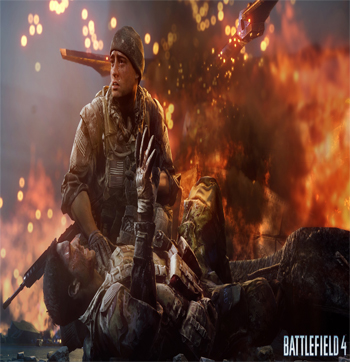 Allegedly, we are able to blow up doors in buildings with C4 and surprise enemies from that position. Feature no. 2: enemies can be spotted. Allies therewith increase gunfire against enemies. Of course, our allies have a chopper, which ultimately ends this spectacle with an enormous explosion. No. 3 and 4: we finally are able to use vehicles. So does our hero, who quickly climbs behind the wheel and opens fire against enemy troops, in the gameplay video. For each killed enemy, we achieve specific points - Dice kept silent about what these points are needed for.
Let's get to the bombastic graphics. According to Dice, the graphics were explicitly called an "evolution", but what we are able to see, is far away from a revolution. However, it doesn't need to be one - Battlefield 4 already looks pretty fancy thanks to Frostbite 3 Engine, which Dice worked 2 years for. This is apparent - especially when taking a look at glow, destruction system, face animations and cloth moving in the wind.
The developer studio keeps silent about the multiplayer mode, which is the most important part for gamers. If Battlefield 4 is going to come out for next-gen consoles, is not clear yet. What's for sure is, that the co-op mode of Battlefield 3 won't have its comeback.
Now your opinion is wanted. What do you think of Battlefield 4? Are you going to buy this game?