There are, currently, many rumours spread around Battlefield 4 on the Internet, which is nothing unusual. However, it's now said that information will be revealed directly from Electronic Arts (EA) at the end of this month - to be precise March 26, a meeting should take place, during which Battlefiled 4 will be presented. The reason for this assumption are press invitations, which highly remind of cover designs of previous Battlefield packagings.
The latest DLC for Battlefield 3 has not appeared on all platforms yet, still there are speculations and discussions about the sequel. Invitations, which supposedly apply for an official press event, were sent to game journalists in the last days. Mentioned event is said to be attended on March 26 in San Francisco simultaneously with the Game Developers Conference GDC 2013.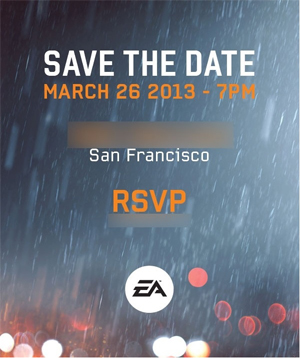 Considering the invitation's design, which reminds with its typical bluish-orange colour of earlier cover designs of Battlefield, suspicions regarding the publication of Battlefield 4 could be confirmed.
If it's really the revealing of the fourth Battlefield title, can't be said so far. One thing is certain: Battlefield 4 is going to take over the contemporary setting and so not take part in remote future. Karl Magnus Troeddson has confirmed this in an interview with IGN.