A lot of information regarding some upcoming content to be added to SWTOR has been leaked, and now it is the moment for every follower of the game to look for it, as some of the content promises to bring life to the game again.
Something that might attract people to the game would be the addition of new mini-pets and space missions; sadly, there is no established date for this content to be released yet.
So, let's get to the important part of the article, the leaked information:
New Daily Area: Section X(Belsavis)
Players will find different daily quests in this area, for the Empire there will be the following quests:
Hyperbiology
March of the Dread Guard
Data Raid
Targeted Misfire
[HEROIC]The Aurora Cannon
[AREA]Lost Reconnaissance
For the Republic, this is the list of quests:
Bio-Reform
Imminent Threat
The Dread Guard
Priority Containment
[HEROIC]Long Shots
[AREA]Key to Decryption
Basically, the tasks to accomplish in here will be to simply complete all of the quests (Daily, Heroic and Area), and Return to the Mission Dropbox; when players finish this, they will be getting around 11305 Experience and it is needed to say that the minimum level for these quests is 50.
As well, a new world boss is being added:
Dreadtooth
(Section X, Belsavis)
Its location is currently unknown, but it is known that it will be involved in three different quests:
Corrupted Dreadtooth

Minimum level: 50
Tasks: Hunt down, attack and defeat Dreadtooth (Corrupted)

Frenzied Dreadtoothlist

Minimum level: 50
Tasks: Hunt down, attack and defeat Dreadtooth (Frenzied)

Nightmarish Dreadtoothlist

Minimum level: 50
Tasks: Hunt down, attack and defeat Dreadtooth (Nightmarish)
The three quests are done on weekly basis.
To give players something else besides these quests, there are, as well, four codex entries, one for each version of Dreadtooth, as every time a player kills it, it will re-surge on a more powerful form:
Dreadtooth
Dreadtooth (Corrupted)
Dreadtooth (Frenzied)
Dreadtooth (Nightmarish)
Along with the boss, players are given a new craftable item, which involves some mechanics with the world boss, like the inhibitor on Nightmare Pilgrim, this item is the
Dreadful Essence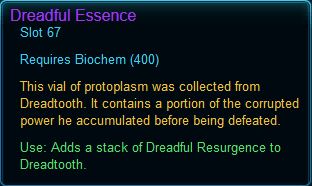 As well, there is a new companion:
HK-51
"This droid is cold, calculating and incredibly lethal. Housed in a sleek body resembling an antique Systech Corporation protocol unit, this HK-series assassination droid lay dormant in the hold of an Imperial vessel for many years. Whatever HK-51's original programming dictated, he pledged absolute loyalty to his new master upon his reactivation.

HK-51 is a model of ruthless efficiency. His assassination protocols deteriorate unless they are put to frequent use. This leads to a constant acquisition, pursuit and permanent removal of qualified targets that would be seen as an obsession in any living being. Beyond expressing pride in successful assassinations, HK-51 has little patience for the trivial emotional problems of organics."
For the Empire:
Likes: Maximizing shock value when eliminating enemies, serving the Empire, discovering and exploiting new ways to kill enemies
Dislikes: Pointless infighting and political backstabbing, failing to take the initiative in a confrontation, permitting a cornered foe to escape
For the Republic:
Likes: Efficiently eliminating enemies, aggressive pursuit of victory, willingness to set aside bothersome ethics and morality
Dislikes: Being merciful to known enemies, praising other droids or failing to recognize his clear superiority, seeking peaceful solutions over violent ones
Primary Stat: Aim or Cunning
Secondary Stat: Endurance
Primary Weapon: Sniper Rifle
Secondary Weapon: Vibroknife
Obviously, to acquire the HK-51 companion, there is a whole quest-line, in which, some items involved are the following: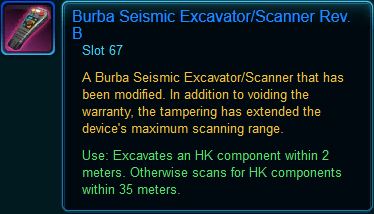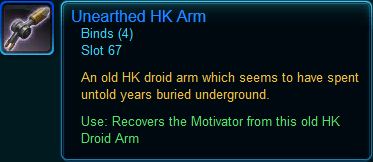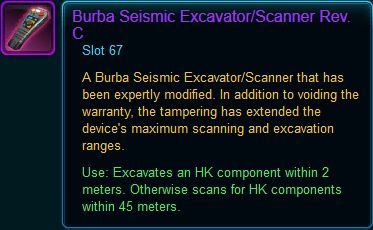 We might get some more information soon, and if we do, it will be added to this article.