elitepvpers members and MMORPG fans!
For today we prepared another great event for you in cooperation with TEC Interactive, the publisher of Metin 2 SG. Herewith we start a Promo Event, exclusively for elitepvpers members, in order to give potential players a better start into the game and to honor the solidarity among elitepvpers and TEC Interactive and publishers in general.
In this event you get the chance to grab an exclusive Promo Key, which gets you a large Promo Package at
www.metin2.sg
after you register. The package includes the following items and features:
30 days Experience Ring
Thief Gloves
Lucky Gold Coin
Expanded Storage
Third Hand
Fishing Manual
The package is worth 18€ (23$) in total!
You can redeem the key at
www.metin2.sg
. Click on "Play Now" in the navigation bar and you can enter the code in the registration form. You'll receive the package after you log into the game. Below you find the instructions in the picture guide.
You get the key by clicking on this banner: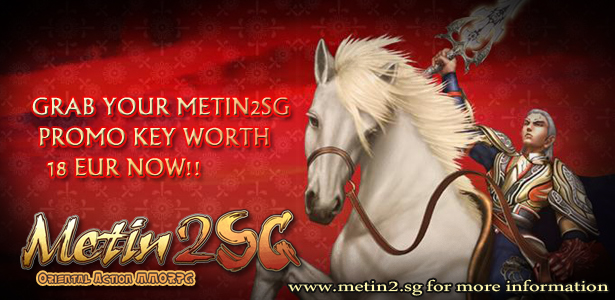 Guide:
Have fun ingame!