Bereits vor einer Woche berichteten wir
hier
über die im Moment stattfindende League of Legends World Championship bei der sich die 12 besten Teams aus aller Welt messen. In diesem Jahr geht es nicht nur um den Titel "World Champion" sondern auch um eine Million US-Dollar für den Gewinner. Am Donnerstag ging es für die verbleibenden Teams um den Einzug ins große Finale.
Eigentlich sollten die Halbfinale bereits am 7.10. ausgetragen werden, jedoch führten schwere technische Probleme in Los Angeles zu einigen Neuauflagen der Spiele. Nach dem sechsten Spiel, welches aufgrund technischer Probleme wieder abgebrochen werden musste, entschieden sich die verantwortlichen Riot-Administratoren die Halbfinale auf vorerst unbestimmte Zeit zu verschieben. Nach zwei Tagen entschied man sich schließlich dafür die Halbfinale in der Finalhalle auszutragen. Um das Finale trotzdem zu etwas ganz besonderem zu machen wurden die Halbfinale ohne jegliches Publikum Vorort ausgetragen.
Gespielt wurde in den Halbfinalen Best of 3, sprich die Teams traten so lange gegeneinander an, bis eines der beiden Teams zwei Siege verbuchen konnte. Hier die Ergebnisse der Halbfinale:
CLG.EU gegen Azubu Frost
Runde 1, Sieger: CLG.EU
Runde 2, Sieger: Azubu Frost
Runde 3, Sieger: Azubu Frost
Moscow Five gegen Taipei Assassins:
Runde 1, Sieger: Moscow Five
Runde 2, Sieger: Taipei Assassins
Runde 3, Sieger: Taipei Assassins
Die finale Paarung sieht daher also wie folgt aus: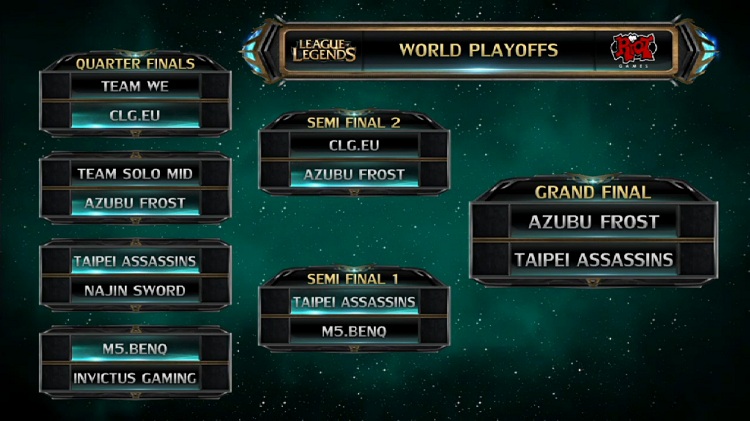 Die Teams Azubu Frost und Taipei Assassins, welche beide aus Asien stammen, werden morgen um 04:00 Uhr deutscher Zeit in einem Best of 5 gegeneinander antreten. Wer möchte kann sich die Spiele dann ab 4 Uhr
hier
im deutschen Livestream anschauen.