DayZ hat uns gezeigt, dass der Kampf gegen riesige Zombiehorden sehr amüsant sein kann. Auch in einer Welt, in der man jeden Moment mit dem Schlimmsten rechnen muss.
Aber auch ein anderes Spiel wagte es, das Genre der Survival Games auf eine völlig neue Ebene zu erheben und dieses startet sogar sehr bald in die geschlossene Beta.
Die Rede ist von
The WarZ
, einem Survival MMO aus dem Hause
Hammerpoint Interactive
.
Dessen geschlossener Betatest beginnt nämlich Ende diesen Monats. Genauer gesagt am 31. Oktober - Halloween. Passender geht es kaum.
Mehr als 1 Millionen Spieler haben sich für den geschlossenen Betatest angemeldet und natürlich kann nicht jeder das Glück haben, auserwählt zu werden, wenn es um einen Beta Zugang geht, doch die Hoffnung ist noch nicht aufgegeben, denn wie schon andere Entwickler vorher, kann man sich auch bei WarZ einen Zugang zur Beta erkaufen und erhält damit dann auch gleich die Lizenz für das vollständige Spiel, wenn es erscheint.
Die Preise könnt ihr hier sehen: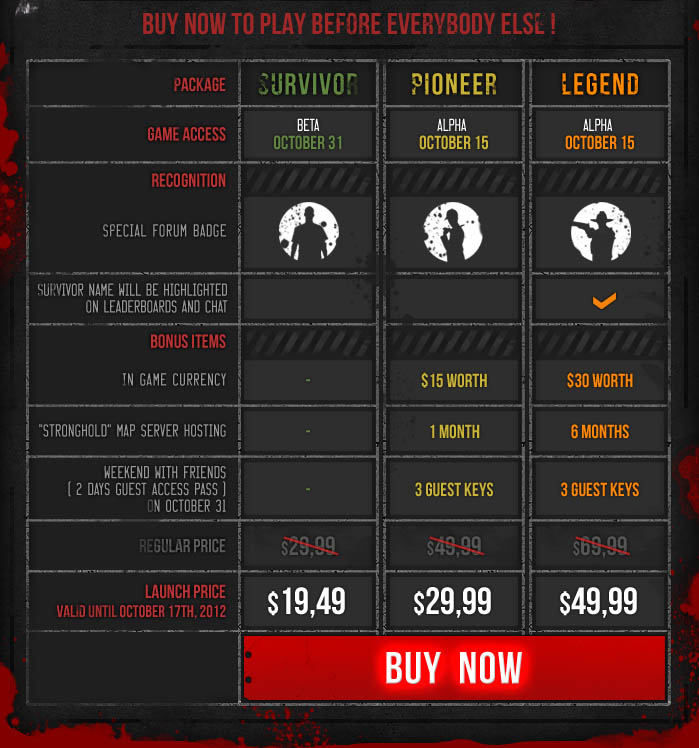 Falls Ihr nun interessiert seid, könnt ihr hier
The War Z: The Survivor MMO!
gleich zuschlagen.
Aber beeilt euch, denn wie ihr sehen könnt, gilt dieser Rabatt nur bis zum 17. Oktober!
Falls ihr noch mehr Informationen benötigt, dann besucht einfach die offzielle Webseite:
The War Z: The Survivor MMO
oder
schaut ab und zu auf Facebook vorbei und vergesst nicht zu liken:
The War Z | Facebook