Die Gerüchteküche rund um den dritten Teil der Half-Life-Reihe brodelt. Laut der französischen Website Le Journal Du Gamer soll Valve im kommenden Jahr den Ego-Shooter Half Life 3 mit einer offenen Spielwelt und zahlreichen Quests veröffentlichen. Die Vorbilder hierbei seien angeblich Oblivion oder The Elder Scrolls V: Skyrim.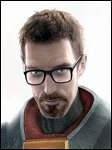 Le Journal du Gamer
, eine französische Website, bekam nach eigenen Angaben von einer anonymen Quelle Details, welche Licht in das Dunkle zu dem kommenden Ego-Shooter Half-Life 3 wirft. In einem sehr Action orientieren Spiel sollen uns eine offene Spielwelt, haufenweise Quests und verschiedene NPCs erwarten. Doch warum plötzlich die verschiedenen Rollenspielelemente? Als Valve mit der Entwicklung von Half-Life 3 begann sollte am Ende, wie man es von gewohnt ist, ein linearer Shooter veröffentlicht werden. Jedoch lies man sich durch den Erfolg der Rollenspiele The Elder Scrolls V: Skyrim oder Oblivion inspirieren und startete den Versuch, ein komplett neues Half-Life zu entwickeln.
Glaubt man den Gerüchten, so soll Half-Life 3 im Jahr 2013 erscheinen. Da sich Valve bisher jedoch noch nicht zu den Gerüchten geäußert hat, können wir die Zeit bis zu einem offiziellen Statement nur abwarten.