Dear community,
The year 2022 is over and a few days of the new year 2023 have already passed. Today is also the Chinese New Year (春節) and we would like to look back on the past 12 months.
It was a year full of challenges and changes, particularly with the ongoing crisis in Ukraine and the global pandemic of COVID-19. Thanks to your activity and engagement in the community, we were able to get through the year together.
We are excited to walk another year with you and look forward to the year 2023 with confidence.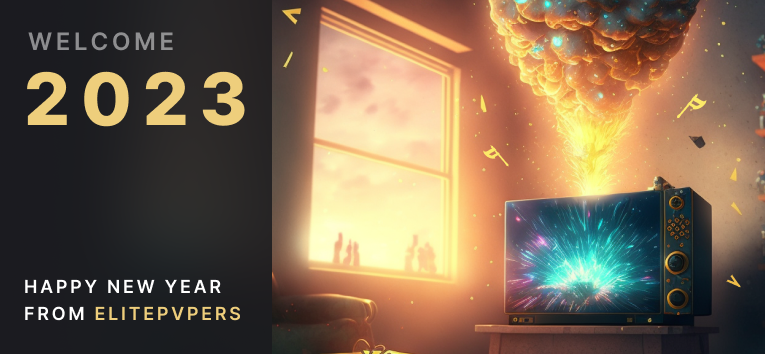 We, elitepvpers, donated 1,132.02€ to
@RettetRegenwald
to support the tropical rainforest in the Sumatra / Leuser ecosystem.
There was also a donation raid from elitepvpers where we asked you to make a donation to the Ukrainian population. (elitepvpers stands behind the Ukrainian population). For this, we would like to thank you again for the numerous donations in any form.
---

---
The following members were added to the team, whether as moderators, guardians or editors. Here is another thank you for your time and effort to support elitepvpers.
Unfortunately, some have also left us in the last year, whether it was due to getting older and spending less time on the computer, starting a family or other circumstances.
---

---
Finally, we have also released the
TBM API v2
. This provides a complete overhaul for our Black Market to access the most important TBM features via a REST interface.
A new "OG Member" badge has been added. This badge will automatically be given to members who have been registered for at least 10 years and have written at least 10 posts per year (not consecutively). In addition, there must be a total of 1000 posts.
Some new categories have been created as follows:
TradingGeneral
New crypto payment methods
So that you have a wider choice to buy elite*gold with crypto.
BNB
USDT
USDC
ATOM (Cosmos)
Polkadot
Stellar
Doge
TRON
USDT (TRC-20, Tron)
USDC (TRC-20, Tron)
DAI (ERC-20, Ethereum)
---

---
Our
content team
currently consists of editors, who are responsible for the
gaming news
as example. On the other hand, we have our event team, which is responsible for all events on elitepvpers, such as the annual Christmas event. In the following, we will briefly discuss the tasks of the two ranks.
Editors

Currently, our editors team consists of 2 members, where we have an editor-in-chief who is primarily responsible for the entire team. The editor reports on current relevant events, however, these do not have to be gaming-related, so we also have an "In Other News" section where everything else can be published. It is also up to each editor to decide what they want to report on.

If you are interested in joining the editors team, you can find all further information here. You can also contact Castiel' directly.
Event-Planner

Currently, our event team consists of 2 members, and we have an event leader who is responsible for planning and implementation. The events are planned and carried out together with all members of the team. The events are always planned for special occasions, such as Halloween or Christmas. Within the event team, various tasks can also come up for you, for example, you could be the person who creates our graphics, plans the organization of the prizes. It is also your task then to help the participants with questions related to the events.

If you are interested in joining the event team, you can find all further information here. You can also contact Satan directly regarding this.

---

---
Many thanks to our exciting and supportive community! We appreciate each and every one of you and are grateful for your contributions, ideas and the time you invest on our forum. We look forward to many more interactive and inspiring encounters with you.
I would also like to mention our dedicated and talented internal team. Without your hard work and support, the community would not be what it is today. Thank you for helping us. We appreciate everything you do and are grateful to have you as part of our team.
You have also contributed to the fact that
322,466 posts
and
62,280 threads
have been created, with an average of
89,000 visitors
daily. That's just amazing!
Thank you to everyone!