Spooktober is approaching its grand finale and Halloween is just around the corner with children going from door to door. As we do not want you to be empty-handed and to sweeten Halloween, we have come up with this event.
Quote:

Originally Posted by Spooktober

The Halloween event begins on

October 24

and ends on

October 31

. Submissions are still accepted up to and including October 31.

You can use the following links to send in your finished tasks:

Submission for Task 2 Submission for Task 3 Submission for Task 4

After you have completed the first task's puzzle, you will get a link to a form where you are asked to enter your elitepvpers name and the link to your profile. Since we do not want to make it easy for you, it's important to carefully examine the first picture. You'll need it.
Tasks
Task 1 - Halloween puzzle
You're sitting in front of your computer, bored, listening to some music and browsing elitepvpers and it's 03:32. At 03:33, the clock strikes and your screen suddenly turns black, after which you are presented with the following bluescreen: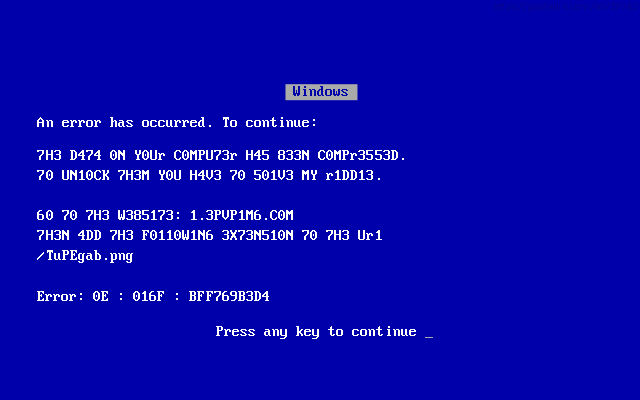 Task 2 - Halloween drink
Show us your drinks for Halloween! (The drink doesn't have to be drinkable)
Task 3 - Halloween decoration
Is your Halloween decoration still missing? Then it is about time you do something about that! Show us your spooky decorations that will make others scream.
Task 4 - Carve out a pumpkin
Halloween is pumpkin time! This year you'll be given a traditional task to choose from. A pumpkin, a knife, and a few utensils are necessary for carving a Halloween pumpkin. Show us how creative you are.
Prices
*The first, second, and third places will receive these prizes.
Further information
To have any chance of winning, you must successfully complete 2 out of 4 tasks. Whoever manages to complete all 4 tasks will have an even higher chance of winning. The first three places will be considered the winners, with each receiving the same prize.
Duplicate entries will not be counted and it is impossible to change a task after submitting it. There will be a permanent exclusion from elitepvpers events for cheating.
Rules
for events are the same as before.
elitepvpers wishes you a lot of fun at this year's Halloween event!