Dear Community,
Spring is here again and outside it's starting to bloom. The garden furniture is taken out and the spring cleaning is just around the corner. The sun is shining and the gray, dark months are slowly coming to an end.
We would like to keep you up to date with the latest news of what has happened here in the last three months.
If you have suggestions for adjustments & improvements, feel free to post them in our
Suggestions & Feedback
forum as usual.
Missed the New Year Newsletter 2022? Don't waste any time and check it out
here
!
---
---
---
---
The following forums have been added during the last months:
More deposit options for elite*gold have been added, you can find them
here
.
BNB
USDT
USDC
Polkadot
Stellar
Doge
---
---
The following people have joined our team during the last months:
---

---

TBM API v2

Since 30.03.2022 we have upgraded our TBM API to v2. This API offers you many new possibilities to automate our TBM features.
You can find more information about the TBM API v2 here.

---

---
elitepvpers donates a portion of advertising revenue to charitable organizations.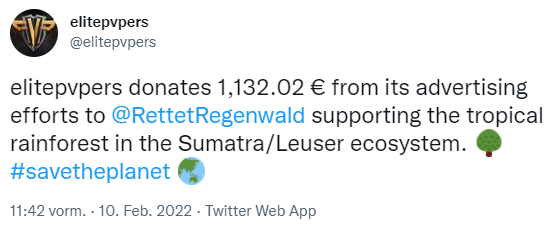 @elitepvpers
---

elitepvpers stands with the Ukrainian people

We as elitepvpers are against wars, discrimination and any kind of aggression and have made an appeal to support Ukraine. You can find more information here.


---

Secure your account!
Account security is a very important topic for us and therefore we have added the 2-Factor-Authentication a little while ago. With this feature, we have added an important improvement to our already existing account security features, to protect your account from getting compromised. If you want to read more about this topic, read this announcement and activate the 2-Factor-Authentication today!
---


If not already seen yet, we now have an "OG Badge". For this, you must have been registered for at least 10 years and have made 10 posts per year (not consecutive). In addition, you must also have written a total of 1000 posts.
The current year is counted, as an example users who have registered in 2014 can already receive the OG Badge in 2023 (if they meet all requirements). This process has been automated by us.
---

---
I keep getting captchas to use elitepvpers, what is the reason?

How you can trade safely on elitepvpers:

The trade went great! How can I rate it?

I have been scammed! What now?

I have received an unfair warning/infraction

More than one person in my home is using elitepvpers. Do I have to report this?

---
You don't want to be notified about our news? What a bummer!
Notifications can be deactivated here.