Don't you think it's time again for another exciting elitepvpers event? Eventually, some of you may know our somewhat dusted
hardware review section
; we want to raise this section from the dead in the course of our review event and fill it with worth seeing content once again. So that this fun is worth for you, we've not spared any efforts and contacted quite a few producers. Whoever doesn't participate in this event should really blame oneself.

Participation and Procedure:
Admittedly, such a review event is slightly exceptional and not quite usual but we just didn't want to miss out this chance and also not keep it back from you. The technology maniacs amongst you should now prick up their ears!
Basically, it's pretty easy: You grab a piece of hardware (e.g. a headset, a keyboard, etc.) that you already own (or just borrowed from your friend) and create a review. Once you are done, publish your creation in our very own
hardware reviews section
and sign up in our
Google form
. Enter your username, the link to your review and the product you would like to win. Deadline: February 18th, 23:59. All reviews will be carefully reviewed by our Event Team, winners will be announced February 20th.
It wouldn't be us if there was no catch: In order to be able to win a price, you have to do just a little bit more: Once you received your price, you have to publish another review about the product you just won and therefore you have to be verified by our team.
The ruleset for reviews:
The review has to be your work, completely. If you copy a paragraph, you are disqualified.

If you embed pictures or quotes, add a link to the source.

Your review has to contain at least 1000 words.

Reviews of the same object (e.g. PlayStation 4) are in direct competition and only one of them can be chosen a winner.

Tech-savvy information (like energy usage) are not a must-have but by no means forbidden.

A basic concept and bullet points your review has to feature, can be found here: example review.
The glorious prices:
Now things are getting heated up! Behold our insane price pool with exquisit hardware - only 1000 words stand between them, and you! At this point we would like to thank all of your sponsors and partners!
---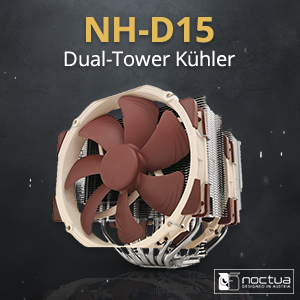 NH-D15 Cooling System by Noctua:
This elite cooling system is not Noctua's flagship for no reason. An insanely powerful dual tower cooler, based on the NH-D14, offers perfect performance while looking extremely exquisite. The countless awards push it even more and "whether you are an overclocking or silent enthusiast, the NH-D15 is a premium solution satisfying highest demands."
If you are interested, please click
here
klicken and we will take you directly to Noctua. And, by the way, this marvellous cooling system is available in shops for
€ 89.90
!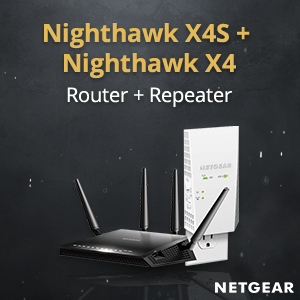 X4S Gaming Router + EX7300 Range Extender by Netgear:
The Nighthawk X4S might be the most relevant price for WLAN gamers amongst you. This gaming router not only convinces by its initial placing for the best router performance 2016 and his futuristic design, but also by its various additional features. In case this beast is not enough for your demands, you will additionally receive a fitting Nighthawk X4 WLAN repeater which further enhances your router's performance.
For more info on the router click
here
, and
here
for the repeater. Usually you would have to pay
189,00€
for the X4S and
119,00€
for the X4.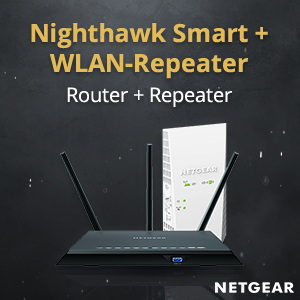 AC1900-Nighthawk + EX6400 Range Extender by Netgear:
Did we already mention that our sponsors were extremely generous? The guys from Netgear gave us another WLAN gaming router along with a range extender. "The Netgear Nighthawk AC1900 smart WLAN router was developed with highest bandwith workload for all your online activities and ensures top speeds. With its powerful 1 GHz dual core processor and its extandable upstreaming QoS for the Xbox and other gaming consoles the Nighthawk allows you to prioritize your bandwith for online gaming, so that other devices in your network do not slow down your connection. The Nighthawk also has a downstreaming QoS and is optimized for streaming services such as YouTube, Netflix, and others, therewith, you can stream videos with less temporary storaging and without any disturbances."
Here
you can take a look at the router and
here
at the extender. The AC1900 is normally available for
159,99€
and the extender for
88,99€
.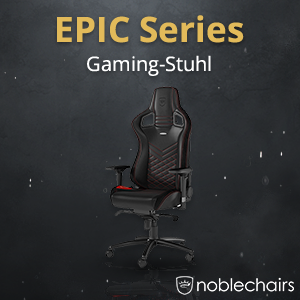 EPIC Series Black/Red by Noblechairs:
Who does not know it? For hours and hours you are sitting in your IKEA office chair and keep wishing for nothing else than a comfortable seat. These times are over! The nice guys from noblechairs are giving us one of their luxury gaming seats: the noblechairs EPIC Series Black/Red Gaming. Finally gaming like a king: "on this royal exemplar the entire gaming seat shines in noble black with red accents. For ideal breathability the material is finely perforated among the entire seat and contact area, and additionally, embroidered with a diamond pattern on the seating surface and lumbar region."
Online the good thing is available for proud
339,00€
, and whoever wins here just has to write two reviews for it; seeing that could almost make one jealous. You can visit noblechairs' page
here
.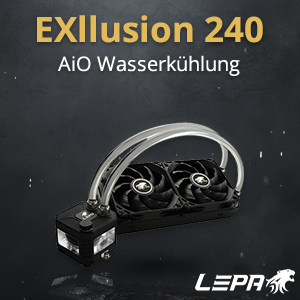 EXllusion 240 Water Cooling System by LEPA:
Easy to assemble, powerful, silent and fricking efficient. The surely most fitting product description possible for the EXllusion 240 Water Cooling System by LEPA! This is a refillable and extendable CPU compact water cooling with an outstanding cooling system for effective chilling for overclocked processors. The water block contains more cooling liquid than usual compact coolers and therefore supports the liquid's circulation which in turn ensures an improved heat exchange. Due to the observation window, the user can additionally take a look at the liquid level anytime. Another highlight are the three included dyes to create your own colored cooling liquid.
Here
you can reach LEPA's homepage ,and at the shop this worth-seeing cooling system costs
110,89€
!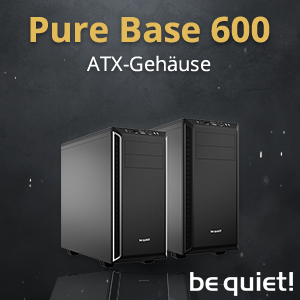 Pure Base 600 by be quiet!:
A few days ago
be quiet!
released a true multi-talent among the PC casings: the Pure Base 600. Extremely high flexibility combined with an outstanding portion of functionality together with the modest and smart design end up in the perfect base for most system configurations. This good thing is not only super user friendly, but also whisper-silent while running.
Now comes the kicker: we do not only have one Base 600 case, but two! One in black and one in silver.
In case you would like to see more products made by
be quiet!
, you are welcome to click
here
. Apropos: even if you do not win, the Pure Base 600 is available for
74,90€
; you cannot do to much wrong with this cost-benefit ratio.
---
So, what are you waiting for? Catch a good product, let your keyboard begin to glow and secure your chance at one of these top prices! The elitepvpers Event Team wishes everyone best of luck and success!