Ho-Ho-Ho and merry christmas everyone!
As every year we at elitepvpers want to make sure everyone is up for the big christmas season and gets in the mood. Part of that of course is our annual christmas competition. Again we put much effort into this, so that this event takes place in a peaceful christmas way. I think we here at elitepvpers weren't naughty at all, we were nice in fact! That's why we are gonna get ourselves some nice pile of presents this year! But we'll get to that later.


Some say, the most important thing about christmas is the optical goodies like when the cities brighten up during christmas with tons of lights at every corner. We thought we should do the same here at elitepvpers. We did our bit and decorated the site. Now it's your turn and so we get to the terms and conditions for the event. You can participate with the following contributions:
Christmas userprofile design - As many of you now, you can customize your userprofile. So go ahead and decorate! Post your profile link.


Christmas logo - You get a sample of our logo (1 & 2) and you make it a true christmas artwork! Upload the picture and post the link!


Game Screenshots / Videos - If you can imagine a christmas scene in a game of your choice, go ahead and take a picture / video of it! Upload and post the result.


Deadline for entries is Dec. 31st 23:59
An internal jury decides about the winner entries and distribution of prizes - criterias are creativity, quality, effort and relevance
Please post all entries in this separate topic: Christmas Event 2012 Contributions
Only one entry per person!
And now we get to the sweet stuff - the prizes: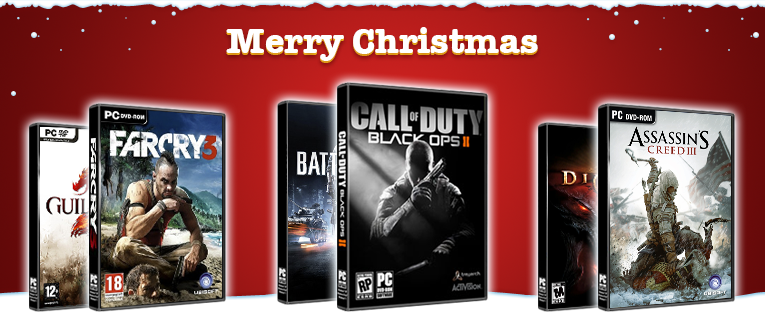 Sponsored by MMOGA:
(2x) Call of Duty Black Ops 2 (PC)
Far Cry 3 (PC)
Diablo 3 (PC)
Guild Wars 2 (PC)
Assassins Creed 3 (PC)
Hitman Absolution (PC)
Battlefield 3 (PC)
Xbox Live Gold - 1 Month Membership
Sponsored by Ubisoft:
(2x) Raving Rabbits Figure (30cm)
(4x) Raving Rabbits Collectible Figurine
(2x) Rocksmith shirts
(2x) ZombiU shirts
(4x) ZombiU Syringe Pen
(2x) Just Dance shirts (female)
Assassins Creed Comic
Sponsored by fast2play:
Chivalry (PC)
Natural Selection 2 (PC)
By elitepvpers:
Little Big Planet (PlayStation Vita) - Obilee
(3x) Premium Membership
Good luck and have fun!
Finally we - the administration - want to direct some words of gratitude towards the people who make this whole thing possible. First off, the community. Without you, we wouldn't be where we are now. There are ups and downs, but at the end of the year, we clearly count more ups. Your contributions are extremely valuable to us and that's worth a big "thank you". Second part of this paragraph goes to our incredible team which does such an awesome job, all voluntary. Your help keeps us going and your efforts are irreplaceable to us and that's why you deserve a special thanks.
Have a wonderful christmas season and a happy new year!